TfL to press ahead after clear majority of replies back the scheme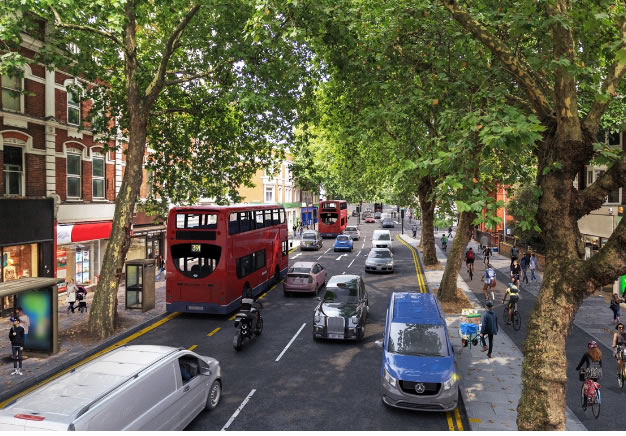 TfL have announced that they intend to move forward with plans for a Cycle Superhighway from Brentford to Kensington Olympia following their assessment of the consultation responses. More than 5,000 people gave their views on the scheme that would see a 6km segregated cycle track built.
TfL's report on the consultation responses shows that 58.9% either supported or strongly supported the scheme with 38.7% opposed or strongly opposed. Overall 53% strongly supported the scheme overall with another 6% saying the supported it.
Almost half of the responses came from the Chiswick area. 70% of the responses to the consultation were from post code areas along the route of the proposed track with 46% from W4 and 11% from W6.
Three quarters of those responding said they were local residents and 8% said they were not local but interested in the scheme. Details of the responses of key stakeholders showed that local residents' groups were overwhelmingly against the scheme but there were mixed views from other civic organisations and businesses in the area.
65% of respondents said they usually travel by bike more than those that use a private car (56%).
TfL divided the scheme up into ten sections and asked respondents to give their views on each individually. The level of strong support/support for individual sections of the scheme ranged from 59% to 64% with the Chiswick High Road section having the lowest level of those in favour but only by a small margin. The Chiswick High Road section did have the highest level of those strongly opposed to the scheme with 33% against.
The level of support by post code was not included in the report leading to some claims that a disproportionate number of those in favour of the scheme were not from the area of the route. We have asked TfL for this data and await their response.
TfL are now going to analyse all responses in more detail and will announce the next stage of the project later in the year.
Will Norman, London's Walking and Cycling Commissioner said, "It's great news that our plans to improve walking and cycling in west London have been backed by Londoners. Cycle Superhighway 9 will improve safety for cyclists and make the area more attractive for pedestrians, providing real benefits to the whole community. I look forward to working closely with the borough councils to consider all of the responses and develop our plans further."
Redesign CS9 a group of local traders and residents who live and work in Hammersmith and Chiswick said, "The residents and traders of Hammersmith and Chiswick have been portrayed by cyclists as being anti-cycling and NIMBYs. This is misinformation. We are not.

"Hammersmith and Chiswick would benefit from improved cycling infrastructure, but that should mean working with residents and businesses locally to find a scheme that works for everyone.

"Many traders and residents were not consulted by Tfl or the London Borough of Hounslow. Many of us did not receive letters, leaflets or emails and were unaware of Tfl's consultation. That is why so many of us signed the various petitions objecting to CS9 in its current form.
"It is evident that this consultation has been influenced by cyclists and people who do not live in the areas concerned."
Hounslow Council have withheld full backing for the scheme saying that they wished to see the full outcome of the consultation. They are unlikely to reach a final decision until after the May local elections.
Councillor Steve Curran, Leader of Hounslow Council, said, "With 60 per cent of respondents supporting plans for Cycle Superhighway 9, there is a clear desire for improved cycling links in west London, however in Hounslow there are local concerns about the effect of CS9 on other road users, particularly pedestrians.
"Whilst we are very keen to improve cycle facilities between our town centres, we cannot ignore these valid comments and council officers are working with TfL to seek to address the concerns that have been raised."
Tony Arbour, whose South West constituency covers Chiswick and Brentford, said, "This looks like the consultation has been undermined by people who live nowhere near the areas affected and who have little or no understanding of the needs of our communities.
"I am calling on Sadiq Khan to halt these proceedings and work with residents and politicians of all parties who agree that the current plans are not good enough. Any scheme that narrows pavements on Chiswick High Road is completely unacceptable."
Commenting, Tony Devenish AM, whose West Central constituency includes Hammersmith, said, "If Sadiq Khan and TfL try to push ahead with this scheme against the wishes of local residents then they deserve the backlash such a decision would inevitably receive.
"Both Hammersmith and Chiswick would benefit from improved cycling infrastructure, but that should mean working with local communities to find solutions that work for residents."
February 28, 2018