Would impact on Sunday Mass gatherings as pavement would be reduced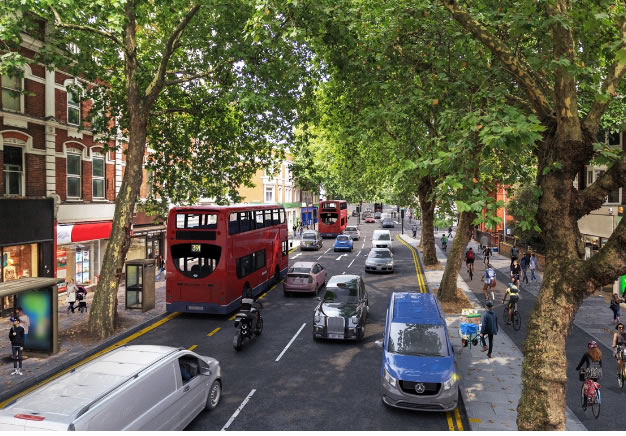 CGI of Chiswick High Road near Dukes Avenue and the church
The clergy at the Church of Our Lady of Grace & St Edward have expressed concern over the impact of the proposed cycle superhighway. The design will reduce the available pavement outside the main entrance of the church on Chiswick High Road by two-thirds.
Parishioners who file out of the church after Sunday Mass generally congregate outside the main entrance to chat to the priests and to other parishioners. People also congregate in that area after events such as weddings, funerals and First Communions. Access will also be reduced for funeral limousines as bearers would have to bring coffins across the planned cycle track.
Parishioners have been urged express their concerns by responding to the consultation on the plan.
A statement from the Church says, "Please have your say on the proposed cycle superhighway that will reduce the size of the pavement outside Our Lady of Grace and St Edward by two-thirds of its current size.
"Please look at the proposals and consider the impact on Sunday Mass congregations gathering on the pavement; First Holy Communion and solemn liturgical processions; funerals and weddings, and access of bearers and limousines. The proposed cycle superhighway, going both ways, will claim right of way. Access to and from Chiswick High Road will be affected; Dukes Avenue will become entry only, and Duke Road will become exit only."
The consultation on the cycle highway leading from Kensington Olympia to Brentford is now available for public comment and this consultation closes on 31 October.
Cycle Superhighway 9 (CS9) is part of a wider network of similar routes. TfL in cooperation with Hounslow Council are still drawing up plans for an extension of the route from Brentford to Hounslow.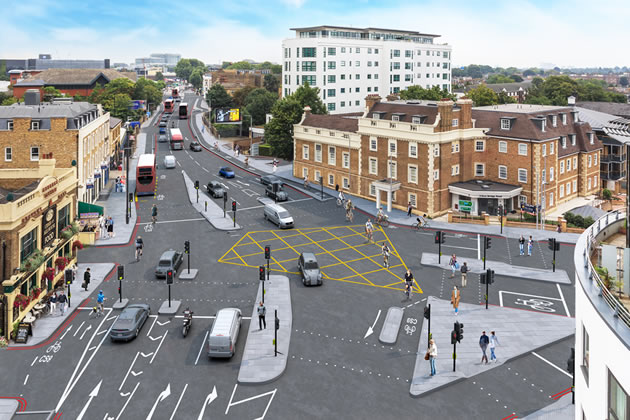 CGI of the proposals, looking north-east along South Circular Road from Kew Bridge Road
Some of the changes proposed to local roads include banning manoeuvres and other changes at the Chiswick High Road/Goldhawk Road junction to help traffic flow around the proposed cycle track.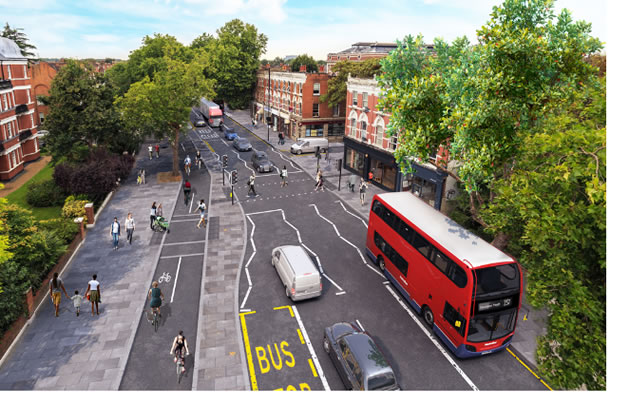 CGI of Chiswick High Road looking west from Cleveland Avenue
Parking will also be affected. Some single yellow lines will be replaced with double yellow lines, no parking at any time except in marked bays.
Further details with maps and images available on the TfL website.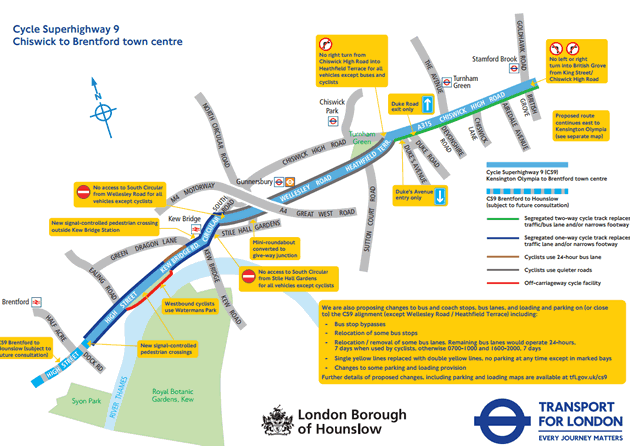 Click here for larger version of this map
The CS9 is part of the Mayor's draft Transport Strategy and Healthy Streets project which aims to encourage walking, cycling and using public transport. TfL say it will provide improvement for all road users and offer a clearer and safer route for people to cycle in West London, make it easier to cross busy roads, and remove traffic on some residential roads.
You can let TfL know your views on these proposals by taking part in their online survey.
Alternatively, you can:
Email consultations@tfl.gov.uk
Write to FREEPOST TFL CONSULTATIONS (CS9)
You can also request paper copies of plans and a response form, copies in Braille, large text or another language using the above contact information.
September 27, 2017