Restaurants set to lose outdoor seating due to reduction in pavement space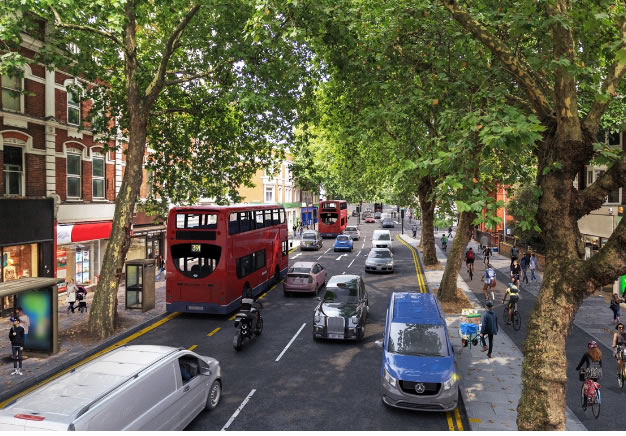 CGI of Chiswick High Road near Dukes Avenue and the church
The proposed Cycle Superhighway (CS9) which is being proposed for Chiswick High Road could mean the end to outside dining at some popular local restaurants.
Staff at some restaurants and cafes predicted that Chiswick's popular 'cafe culture' will be impacted by the cycle highway and that business is likely to be affected for the worst.
The route for the cycle lane on the south side of the High Road would see it come past the doors of restaurants which currently have tables and chairs outside on the pavement. There is some reduction of pavement space on the north side of the High Road but it is not thought that this will reduce the amount of pavement dining here.
One manager of a local restaurant told ChiswickW4.com that there would not be enough available space to accommodate tables and that the idea of cyclists whizzing by inches away from customers would not be attractive to diners.
"It will definitely affect business. There is no doubt about that", he said.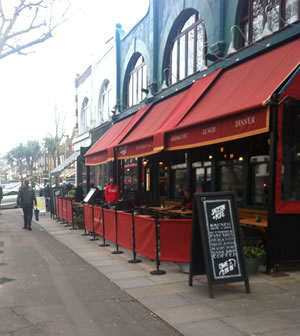 .
Those most likely to be hit are Chateau Dessert, Byron, Jackson & Rye, and Zizzi.
The management of the restaurants affected have referred the matter to their various head offices to consider but some said privately to Chiswickw4.com that they did not think that routing of the cycle lane so close to high street businesses was going to be bring any benefits for trade.
We have asked Byron, Zizzi and Jackson & Rye head offices for comment.
A short distance away is Our Lady of Grace & St Edwards church where a Fr Michael Dunne and his parishioners are campaigning to have the cycle highway rerouted on the grounds that it will reduce the pavement by two-thirds outside the Church. This would create serious difficulties for events at the Church that attract large attendances such as weddings. There is particular concern about the impact on funerals as coffins would have to be carried across the superhighway.
Smaller traders along the street have already decided to attend the public meeting at 7.30pm, Tuesday 17 October in the Boston Room of the George IV on Chiswick High Road.
Tickets here
TfL said at the Chiswick area Forum that surveys had been carried out with traders in the area and it had previously been shown that cycle highways did not lead to a decrease in trading levels. However some of the shops approached by Chiswickw4.com this week said the first they heard of the highway was when local people broached the subject having read about it on this web site.
You can read more details about how the cycle highway will operate with maps.
The cycle path is to be located on the southern side of Chiswick High Road because surveys indicated this had a lower footfall and it would have a lower impact on tree removal, according to TfL.
TfL have said that three mature trees will have to be removed and ten will be planted. However any decision to cut down trees is likely to be very unpopular with local residents. This has already led to a debate on our forum. There are fears that even more trees will be felled, as the north side of the High Road is widened to make way for a new bus lane.
One poster commented, "I seriously believe we are about to have foisted upon us a major debasement of one of Chiswick's greatest assets - the wonderful Chiswick High Road with it's wide pavements and impressive tree canopy."
The consultation on the cycle highway closes on 31 October.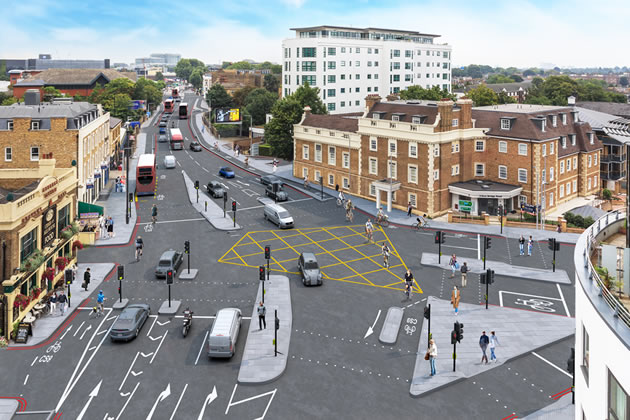 CGI of the proposals, looking north-east along South Circular Road from Kew Bridge Road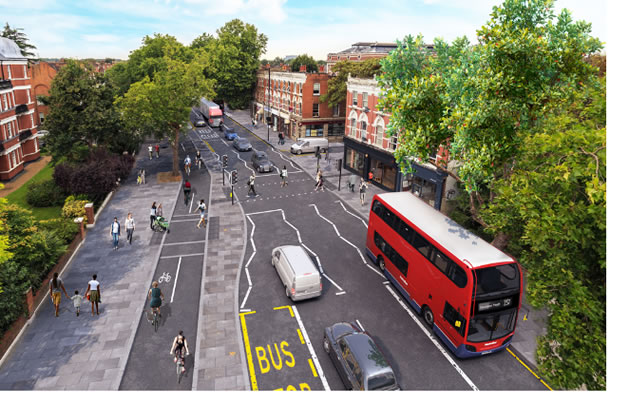 CGI of Chiswick High Road looking west from Cleveland Avenue
Parking will also be affected. Some single yellow lines will be replaced with double yellow lines, no parking at any time except in marked bays.
Further details with maps and images available on the TfL website.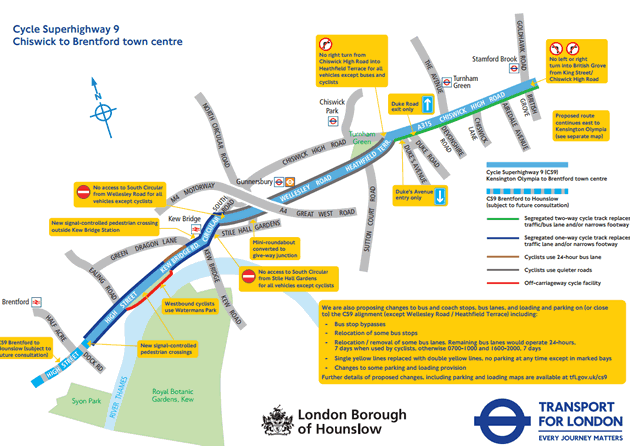 Click here for larger version of this map
The CS9 is part of the Mayor's draft Transport Strategy and Healthy Streets project which aims to encourage walking, cycling and using public transport. TfL say it will provide improvement for all road users and offer a clearer and safer route for people to cycle in West London, make it easier to cross busy roads, and remove traffic on some residential roads.
You can let TfL know your views on these proposals by taking part in their online survey.
Alternatively, you can:
Email consultations@tfl.gov.uk
Write to FREEPOST TFL CONSULTATIONS (CS9)
You can also request paper copies of plans and a response form, copies in Braille, large text or another language using the above contact information.
October 7, 2017