Radical redesign of road layouts aims to boost the number of people cycling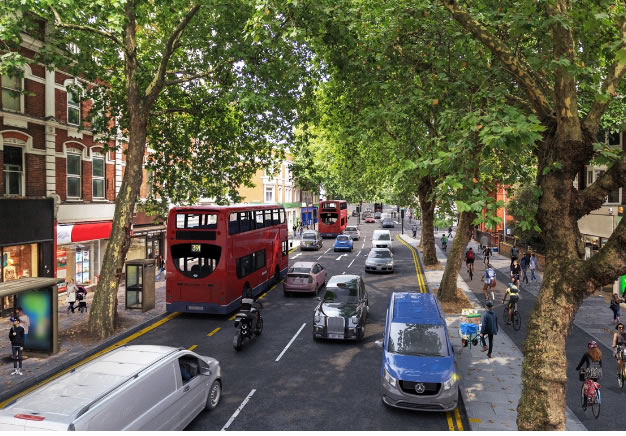 CGI of Chiswick High Road near Dukes Avenue
New proposals have been published that would see a radical change to road layouts in Chiswick to incorporate a Cycle Superhighway. Based on Transport for London's (TfL) own modelling the scheme would significantly increase journey times along Chiswick High Road. A consultation is being held on the scheme with the deadline for responses at the end of next month.
Cycle Superhighway 9 (CS9) is planned to run from Brentford Town Centre to Kensington Olympia as part of a wider network of similar routes. TfL in cooperation with Hounslow Council are still drawing up plans for an extension of the route from Brentford to Hounslow.
There will be a two-way three-metre wide segregated cycle lane on the south side of Chiswick High Road which will replace all current cycle lanes on the High Road. The segregating kerb there will be about 0.5 metres wide. The cycle track will replaced stretches of the current westbound bus lane from Netheravon Road to Homefield Road. The remaining footway will be narrower but at least 3 metres wide.
Some of the major change include not allowing traffic to turn right from Chiswick High Road into Heathfield Terrace (apart from buses and cyclists). A mandatory cycle lane would replace one eastbound general traffic lane on Chiswick Road Road to facilitate access into CS9 at Heathfield Terrace. There will be no access to the South Circular Road from Wellesley Road and Stile Hall Gardens for vehicles except cyclists.
Dukes Avenue and Dukes Road will become Entry Only and Exit Only (respectively). Traffic counts found a maximum of 60 vehicles per hour turn into Duke Road. Access from Chiswick High Road would be maintained via Duke's Avenue and Bourne Place. This would help to address a trend of collisions involving vehicles turning into Duke Road from Chiswick High Road say TfL.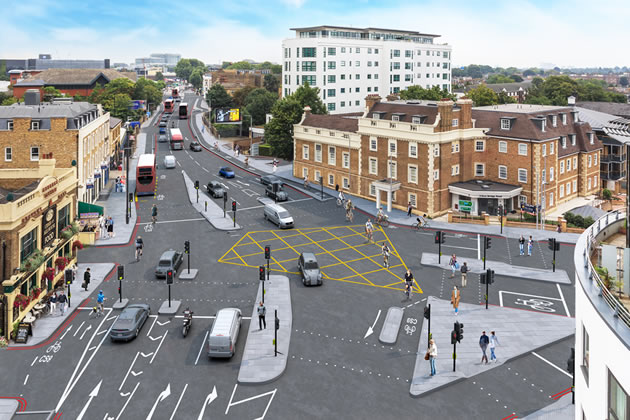 CGI of the proposals, looking north-east along South Circular Road from Kew Bridge Road
Between Chiswick Roundabout and Kew Bridge there will be just one lane of traffic travelling towards the roundabout shared by buses and general traffic with a segregated one-way stepped cycle track replacing general traffic space. Improved pedestrian crossings are promised at Kew Bridge junction but access between Capital Interchange Way and Wellesley Road will be removed for cyclists. The new segregated one-way stepped cycle tracks would be 1.8-2 metres wide. These tracks would be vertically separated from both the footway and carriageway (approximately 60mm above the carriageway and 60mm below the footway).
During the morning peak the journey by motor vehicle from Chiswick Roundabout to Kew Bridge is expected to increase by 4 to 5 minutes by 2021 if CS9 is implemented. However in the opposite direction journeys are expected to be slightly faster due to factors other than CS9. During the evening peak travel from Chiswick Roundabout to Kew Bridge is expected to increase due to other factors but the effect will be lessened due to CS9. In the opposite direction no increase in travel time is expected and CS9 might lead to a marginal improvement.
Travel in the morning between Goldhawk Road and Chiswick Roundabout which has most recently been measured as taking a range of 10-12 minutes will increase by 3-5 minutes due to CS9. During the evening rush CS9 is expected to wipe out gains from other factors leaving travel times unchanged.
There will be no change in the travel time in the morning between Chiswick Roundabout and Goldhawk Road as a result of CS9 although the journey time is expected to increase by two minutes by 2021 due to other factors. In the evening the negative impact is expected to be higher with up to 7 minutes being added to journeys by CS9.
Local bus routes will generally see no change or an increase of up to 5 minutes travel time in the morning peak and 10 minutes in the evening peak as a result of the changes.
A consultation on the cycle highway leading from Kensington Olympia to Hounslow is now available for public comment and this consultation closes on October 31st. TfL will make a presentation to the Chiswick Area Forum on Tuesday 26 September (Chiswick Town Hall, 7pm) to which the public are invited.
Some of the changes proposed to local roads include banning manoeuvres and other changes at the Chiswick High Road/Goldhawk Road junction to help traffic flow around the proposed cycle track.
There would also be significant changes to bus gates, bus lanes and operating hours on Chiswick High Road. The bus stops affected are the one at Chiswick Lane, Chiswick Police Station and Stamford Brook Bus Garage.
New signalised crossings would be installed on Chiswick High Road at Mayfield Avenue, Windmill Road and Linden Gardens (converted from zebra)
Some will have to be removed at Mayfield Avenue and Windmill Road. TfL have said CS9 would be routed to ensure mature trees on Chiswick High Road would be maintained where possible. Three trees will have to removed and they have identified potential locations for ten new trees to offset the losses.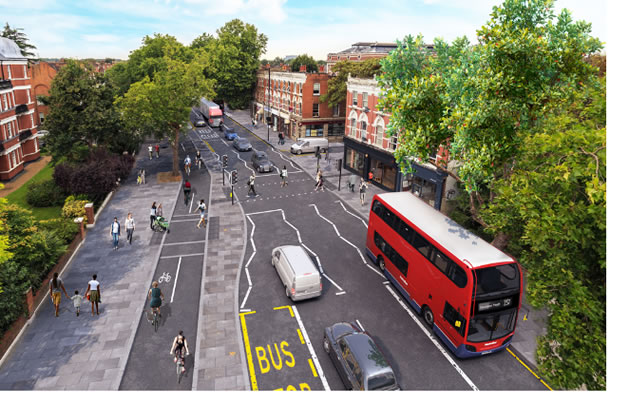 CGI of Chiswick High Road looking west from Cleveland Avenue
Parking will also be affected. Some single yellow lines will be replaced with double yellow lines, no parking at any time except in marked bays.
Pedestrian crossing over the cycle trace would be uncontrolled. The cycle track will be the same level as the footway at crossing points to allow step-free access. The southern footway at Chiswick High Road ( junction of Chiswick Lane and Heathfield Terrace) would be converted to shared use, enabling cyclist access.
Further details with maps and images available on the TfL website.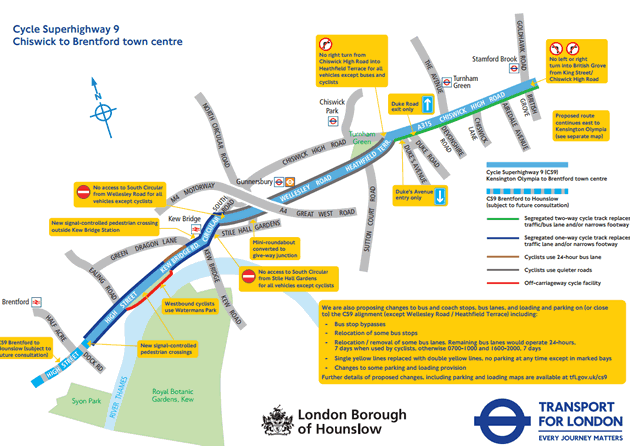 Click here for larger version of this map
The CS9 is part of the Mayor's draft Transport Strategy and Healthy Streets project which aims to encourage walking, cycling and using public transport. TfL say it will provide improvement for all road users and offer a clearer and safer route for people to cycle in West London, make it easier to cross busy roads, and remove traffic on some residential roads.
"Changing the layout of many of the roads along the CS9 route would create a more appealing environment for everyone to enjoy", TfL say.
However, they do acknowledge that "transforming road layouts is not without impact and there are difficult choices to be made in determining the roads on the alignment."
Launching the public consultation, Mayor of London Sadiq Khan said, "As the capital continues to grow, it is vital that we encourage more Londoners to walk and cycle to improve health, productivity and air quality.
"That's why I've set out bold plans to change the way we look at how our transport network and committed record levels of investment to improve cycling.
"This new cycle superhighway will bring a high-quality segregated cycle lane to west London for the very first time."
You can let TfL know your views on these proposals by taking part in their online survey.
Alternatively, you can:
Email consultations@tfl.gov.uk
Write to FREEPOST TFL CONSULTATIONS (CS9)
You can also request paper copies of plans and a response form, copies in Braille, large text or another language using the above contact information.
The consultation closes on Tuesday 31 October 2017.
September 21, 2017