Tony Arbour says he has had more emails on plan than for any previous consultation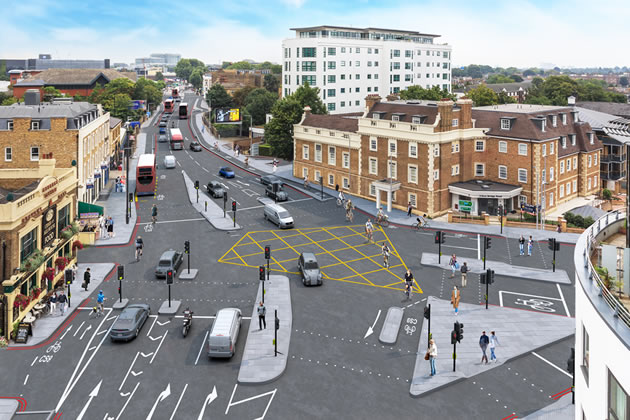 Local London Assembly Member Tony Arbour has said that he has received more e-mails about the proposed Cycle Superhighway 9 than any other TfL consultation since he was elected. Of these he claims 'not one' has been positive about the current proposal.
The response has prompted him to send a letter to the Mayor and he says he will be taking the matter up with Sadiq Khan at Mayor's Question Time in City Hall on 16 November asking him to think again about the scheme.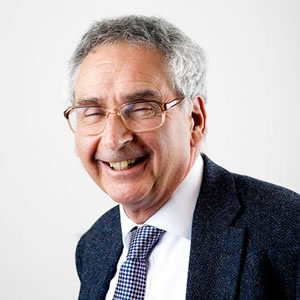 Tony Arbour AM
In his letter he states, "I have never received as many e-mails about a TfL consultation as I have about the consultation on Cycle Superhighway 9. Not one of those responses has been positive about the prospect of CS9 as currently planned. Clearly a great number of my constituents hope that this consultation will be an opportunity to persuade TfL to think again. There is, however considerable concern that their objections and issues will be ignored. They also worry that the consultation will be skewed by cyclists who do not live in Chiswick, noting that a recent public meeting included many attendees who were cyclists from other parts of London."
He goes on to say that while he sees the argument for segregated cycle paths in some areas due regard must be paid to local circumstances.
He adds, "Chiswick High Road is not a suitable location for segregation that would narrow road and pavement space. My constituents fear that road traffic will slow down and they will suffer an increase in pollution as cars and buses queue along Chiswick High Road."
He also raises concerns about the way the consultation was conducted and its short duration and requests that TfL go 'back to the drawing board' and work with local residents to find an acceptable solution rather than forcing one on them.
He concludes, "There is much support for cycling in my constituency but I have seen no support for Cycle Superhighway 9 as currently envisioned."
The deadline for the public consultation on the proposed Cycle Superhighway (CS9) for Chiswick High Road has now ended.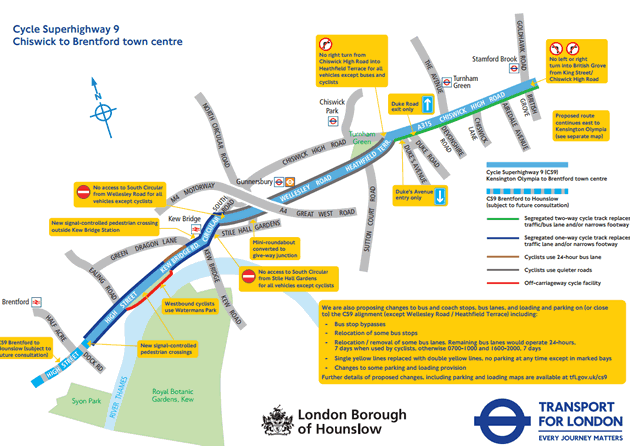 Click here for larger version of this map
CS9 is part of the Mayor's draft Transport Strategy and Healthy Streets project which aims to encourage walking, cycling and using public transport. TfL say it will provide improvement for all road users and offer a clearer and safer route for people to cycle in West London, make it easier to cross busy roads, and remove traffic on some residential roads.
November 7, 2017