They want TfL to investigate 'on-carriageway' and alternative solutions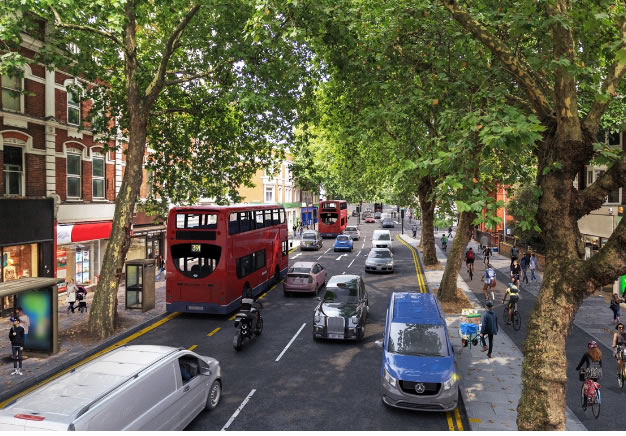 Chiswick Liberal Democrats want TFL to investigate 'on-carriageway' and alternative solutions such as an A4 route
to ensure CS9 works for all.
The Lib Dems say that while being fully supportive of increasing the use of walking, cycling and public transport to
improve health, air quality and safety, they can't support the proposed Chiswick section of the CS9 cycle super highway in its current form.
'In our view TFL have failed to provide evidence that the CS9 scheme will deliver on these benefits for Chiswick.
It's the right principle but is being implemented incorrectly,' said Helen Cross, Liberal Democrat Council Candidate
for Turnham Green Ward.
'This scheme is expected to cost up to £70 million pounds and should support all the forms of transport it is supposed to. This appears to be a classic case of top down targets driving decisions with little consideration of local needs. Chiswick Liberal Democrats want TFL to investigate 'on-carriageway' and alternative or complementary solutions such as an A4 route to ensure CS9 works for all,' she continued.
Our survey among local Libdems showed that while many want a 'greener' Chiswick, there were many concerned about the impact of the scheme on pedestrians, public transport, traffic and businesses. Following this feedback, Helen and fellow Turnham Green candidate Chris Gillie reviewed the TFL proposals. They highlighted the following
concerns:

1. Wrong solution for community, consumers and business: The proposal of a fully segregated off-carriageway cycle route treats Chiswick High Road as a commuter 'through road' and is at odds with its crucial function as the community and local shopping hub for Chiswick.
The proposed plans make crossing the road more difficult (all pedestrian crossing times are up significantly, some by 400%), impeding the ability of people to access businesses and amenities on both sides of the road. TFL's own planning guidance advises against putting fully segregated off-carriageway solutions on 'high street' type roads.
2. Reduced accessibility: This planning approach has led to an over emphasis of cycling at the expense of walking and public transport in Chiswick. We believe this presents significant accessibility challenges for vulnerable and disadvantaged groups (those with disabilities, children, or the elderly) as buses are one of the most affordable and accessible forms of transport.
TFL have projected generally increased bus travel times, by as much as 5 – 10 minutes at peak times eastbound, and they have failed to publish any assessment of the critical E3 and 272 bus routes that connect north and south Chiswick.
3. Diminished pedestrian experience: Due to reduced pavement size, generally increased traffic journey times and having to cross a two-way CS9 lane to get to bus stops, Chiswick High Road will be more crowded, feel less safe and potentially have increased pollution. The current design of CS9 in Chiswick is also fundamentally at odds with the Healthy Streets Approach adopted by TFL that is supposed to encourage pedestrians and communities.
The plans conflict directly with 6 of TFL's 10 Healthy Street Indicators, and we
are particularly concerned that an impact assessment on levels of pollution has not been carried out.
See a detailed analysis and demands of TFL at http://hounslowlibdems.org.uk/d0PF and contact Chiswick Liberal Democrats at liberalchiswick@gmail.com.
'Chiswick Liberal Democrats want to work with TFL to get the right CS9 approach for Chiswick. The current proposal diminishes the experience for pedestrians, impedes access to public transport for vulnerable groups, potentially increases pollution and is bad for local businesses.
We will continue to push TFL to take concrete actions to address our concerns and develop a better solution that works for all."
The deadline for the public consultation on the proposed Cycle Superhighway (CS9) for Chiswick High Road has now ended.
Further details with maps and images available on the TfL website.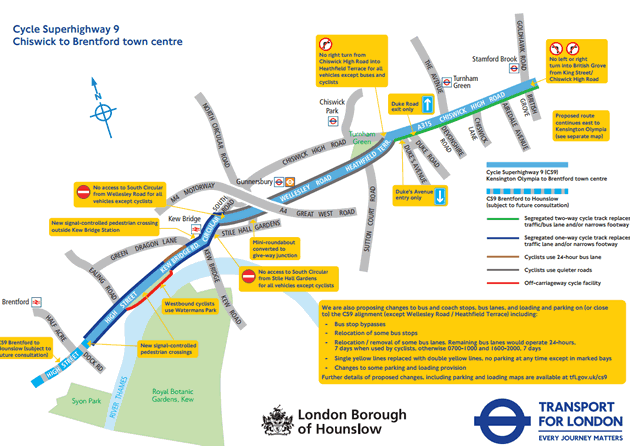 Click here for larger version of this map
The CS9 is part of the Mayor's draft Transport Strategy and Healthy Streets project which aims to encourage walking, cycling and using public transport. TfL say it will provide improvement for all road users and offer a clearer and safer route for people to cycle in West London, make it easier to cross busy roads, and remove traffic on some residential roads.
November 3, 2017