Cllr Gary Malcolm says plans are a frightening prospect for local residents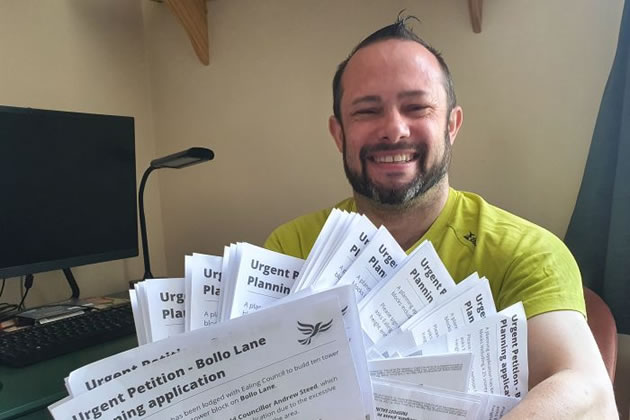 Cllr Gary Malcolm with petitions against the scheme
A developer has submitted a revised application to increase the height of a building by Bollo Lane to 15 storeys. Another building in the area has been submitted to increase the number of storeys from 9 to 11!
Councillor Andrew Steed and myself (both Liberal Democrat Southfield ward councillors) are not on the planning committee and have been campaigning to stop such monstrous Bollo Lane developments, and organised a petition that attracted hundreds of signatures in the neighbourhood. There is clear opposition to this and further developments, and the Labour-led planning committee must not betray the community it serves.
We are concerned at the pressure this puts on the local infrastructure, such as GP surgeries, hospitals, transport and schools. A building of this size without the pledge to increase such things is simply not a fair deal to the local residents. Yet arrogant developers - and the planning committee - clearly do not have the community's interest in mind.
My Liberal Democrat colleague, Councillor Andrew Steed said recently, "The justification for extending the height is based upon plans by other developers who have not got planning permission yet. It is frankly absurd. It does however demonstrate the lengths some developers will go to, in order maximise the return they will make."
This sounds very similar to another planning application (referenced: 201379OUT) which comprises ten towers ranging from 8 to 18 storeys high which is planned to be built on Bollo Lane, Acton. If the Council agrees (and there are over 600 objections already) then many of those towers would be seen as far south as Chiswick Park Tube station and also from Hounslow!
Furthermore, many of these developments are very dense: the new residents will be like living in a shoebox compared to the past. The share of affordable housing for some buildings is acceptable but others is not in any way truly affordable. People need good housing and at a price that people can afford. We need developments that are mixed, having a decent amount of social housing as well as community open space.
The planning committee meeting to discuss this was cancelled last December but it appears likely now to take place on 20th of January. If you are a Southfield ward resident and want to know more, please email southfield@ealinglibdems.org.uk with your views so we can reflect your views as your ward councillors at the Planning Committee meeting.
You can also email us if you want to attend the meeting, shall you need help in accessing the link online which we will have access to in the coming week or so.
Councillor Gary Malcolm - Southfield ward

January 9, 2021