Cllr Gary Busuttil reports back from busy online Ward Forum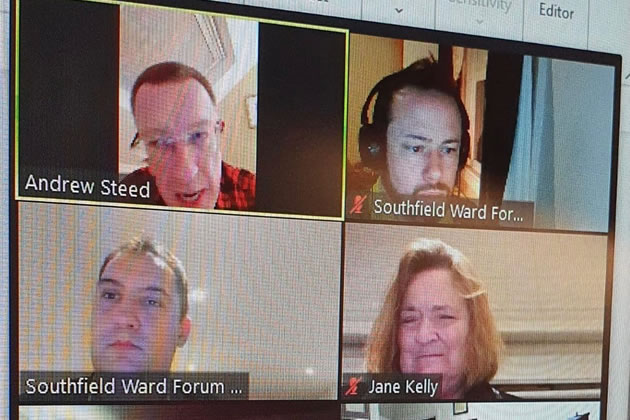 Screen grab from the Southfield Ward Fourm
Southfield Liberal Democrat Councillors conducted our third online Ward Forum this year. Almost nine months from the initial lockdown, back in March, we are still the only ward in the borough of Ealing to have conducted online Ward Forum meetings.
Ward Forums online have proven to be very successful in Southfield and Ealing Council should do this for all wards but sadly only the Liberal Democrats appear to want this despite other Council meetings which have been conducted via Teams or Zoom for many months. There isn't any excuse for not conducting Ward Forum meetings in this way.
Monday's Southfield Ward Forum was held to communicate new information to residents and discuss possible alternatives to the traffic restrictions on Fishers Lane. It was another successful and productive meeting where over 60 residents and Chiswick Councillors from both Ealing and Hounslow sides of Chiswick attended. In the meeting which lasted one hour, we managed to hear from everyone who wanted to ask questions and speak, who gave some very useful information and comments, and provide ideas for solutions which we will present to the Cabinet Meeting at Ealing Council scheduled for January which will cover this important local issue.
It is quite clear from the Ward Forum that both cyclists and motorist are annoyed at the scheme. However, we stress, it is not a binary choice, cyclists against motorists, and vice versa. It should be about what works and doesn't work and how we can find solutions to problems, and produce schemes that are safe first and foremost, and where everyone benefits.
Local Liberal Democrat Councillors have always advocated resident engagement, and perhaps if this had of happened in the first place, we may have had a scheme that was satisfactory from the outset. It seems Labour in Ealing are only willing to listen to residents when they kick up a fuss.
That is why the Liberal Democrats presented the Council with our survey findings.
We will continue to communicate any information to residents as and when we find out new information and more on the meeting that takes place in January so that Chiswick residents can attend the meeting.
If you would like to hear how you can attend the Council's January meeting where Fishers Lane is due to be discussed, please email us at southfield@ealinglibdems.org.uk
Councillor Gary Busuttil
December 12, 2020