Councillor Andrew Steed believes there is still cause for optimism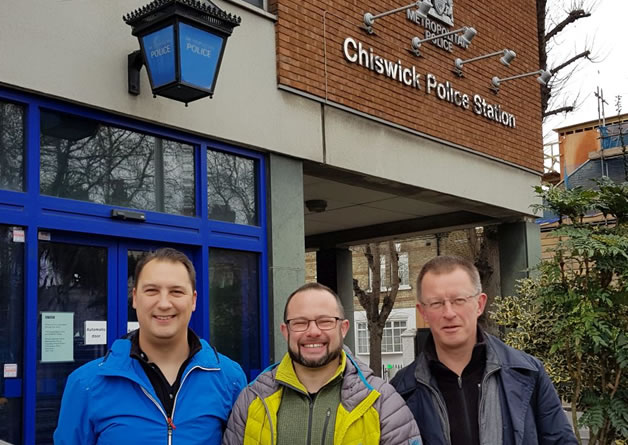 Liberal Democrat councillors in front of Chiswick police station
A report on Chiswickw4.com recently painted a situation where Chiswick Police station would not be open in the future.
I am more optimistic. Despite the success of local Liberal Democrat campaigners in raising the issue of Chiswick Police Station, with the nearly 1500 residents who signed the petition, it would appear the Labour Mayor of London is not interested in keeping Chiswick's Front Counter open.
But we can see that a review is taking place by some of the staff at City Hall. This is a positive thing in my view.
In response to questions asked by Liberal Democrat Assembly Member Caroline Pidgeon, the Mayor accepted that with the announcement of 20,000 additional police officers, the Police Service has to review its estate strategy. According to the Mayor, there has been an initial tranche of 1,369 officers to London.
So where would these new and other police work given some police stations have been closed by the London Labour Mayor?
Apparently, it is this delay which has held up the work of a review and deciding upon the role of the Chiswick Police Station.
My colleague Cllr Gary Malcolm, who has led this campaign is understandably frustrated. "It is another story of the Government not keeping its promises, and another example of a Conservative national and Labour regional administration not working together for the common good."
This is a great shame as clearly it is an issue for the residents who signed the Lib Dem petition. Having easy, direct accessibility to the Police is hugely reassuring to people living in both Ealing or Hounslow Chiswick. It also makes sense following on the review of Police properties that is taking place.
Let's get the petition to over 1500 and then we can write again to the Mayor of London!
Councillor Andrew Steed
Liberal Democrat Southfield ward Councillor

October 17, 2020