Lane closures by Kew Bridge predicted to have major impact on traffic around Chiswick

CGI of new layout near Kew Bridge
Transport for London (TfL) have provided more details about the travel disruption likely to result from the start of its work building Cycleway 9 at Kew Bridge junction next week.
The main traffic delays are expected for those travelling on the A406 onto Chiswick High Road, eastbound on the A315 Kew Bridge Road, and on Kew Bridge.
There is likely to be substantial congestion in the run-up to the busy Christmas and New Year period, compounding the effect of the extra thousands of vehicles crossing Kew Bridge and Chiswick Bridge due to the closure of Hammersmith Bridge. Chiswick's nine conservative councillors have said it is "madness" to start the project at this time.
"Gridlock will be even worse throughout Chiswick and we all know what that means for pollution which is already excessively high here. This is another example of how out of touch the council and TfL are," said Cllr Jo Biddolph.
Bus routes will remain in place but may experience delays due to lane closures - the bus stop outside Kew Bridge Station will be suspended and move towards Brentford Fountain Leisure Centre. TfL have also asked local shops and businesses to consider streamlining deliveries outside peak periods.
The transport company has also promised an extensive communications campaign to alert local people and encourage alternative routes to be used.
TfL will start the enabling works next Wednesday, 12 December to 19 December. This section of the Cycleway 9 is expected to be completed in late autumn 2020.
From 12 December the junction will be operating with lane closures. TfL say they are doing all they can to keep traffic moving by actively managing the traffic signal timings during the works.
The transport company says that to minimise the overall impact of construction on residents, businesses and road users, they will carry out the work in carefully coordinated phases.
• Enabling works: 12 to 19 December. Working off-peak during the day (10:00 to 15:00) and overnight (20:00 to 05:00) to minimise disruption to the roads, TfL will remove lighting columns and install temporary traffic lights on site.
• Main works phase: from 22 December to late autumn 2020.
They will remove four traffic islands to make way for the new junction layout. There will not be work on Christmas Eve, Christmas Day, Boxing Day, New Year's Eve and New Year's Day. However the lane closures will remain in place.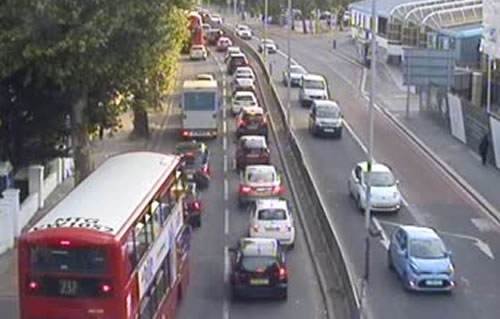 A previous image of traffic congestion in the area
Later phases of work will be carried out from January 2020 onwards.
During the main phase of works they plan to work 08:00 to 17:00 on weekdays, 08:00 to 16:30 on Saturdays, and 09:00 to 16:00 on Sundays. No noisy work will take place after 23:00 on any day. These working hours have been agreed with Hounslow Council.
TfL say you should expect some delays on the A406 Gunnersbury Avenue (onto Chiswick High Road), the A205 Chiswick High Road, eastbound on the A315 Kew Bridge Road and on Kew Bridge, especially during peak hours.
Local councillors say the problems will not be confined to Kew Bridge and that there will be consequences for the western section of Chiswick High Road/A315, Ellesmere Road/Great West Road/A4; the North Circular/A406, Strand on the Green, Brentford High Street/A315 and for accessing and leaving the M4 in both directions, as well nearby roads including in Surrey Crescent, Stile Hall Gardens, Wellesley Road, Strand on the Green, on the junction and beyond on Brentford High Street near Kew Bridge.
Cllr Jo Biddolph, leader of the nine Conservative councillors in the borough, said the disruption would be 'terrible' for businesses such as shops and cafes on Kew Bridge and Strand on the Green. She has asked Leader of Hounslow Council, Steve Curran to give the shops a Business Rates holiday for the time they are affected but has not had a reply.
"We all need to make a special effort to shop at these local independents while this intrusive and unwanted scheme is being constructed - taking a whole year to do - and afterwards. Our traders have invested heavily in Chiswick and pay huge business rates - and this is their reward. It is unjust especially as the majority of Chiswick residents and retailers do not want this scheme. LBH and TfL had the chance to compromise and build a scheme that would work for all but has shamelessly ignored local opinion. It's shameful."
Bus routes in the area will operate as normal but may experience delays due to the lane reductions in place. The eastbound bus stop 'Kew Bridge Station' (Stop X) will be suspended throughout these works. The nearest alternative stop is 'Brentford Fountain Leisure Centre' (Stop L). You can see details on the live updates.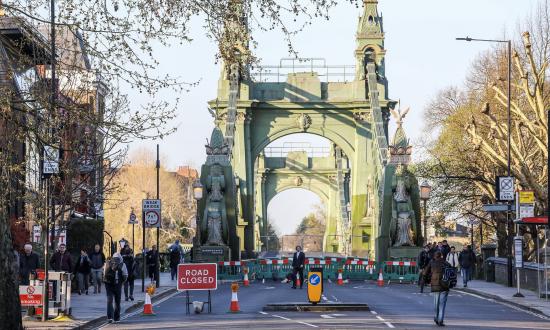 The closure of Hammersmith Bridge has already led to congestion from rerouted traffic
Footpaths and pedestrian crossings will remain open. TfL say any temporary closures or diversions will be clearly signed and that access to properties along the route will be maintained throughout.
Hammersmith & Fulham Council this week approved the next stage of planning for the 'Safer Cycle Path' through King Street, which will join up with Cycleway 9 through Chiswick. They have also received funding from TfL to plan a cycleway along part of the A4.
December 4, 2019