Discounted dining during soft launch of new restaurant on High Road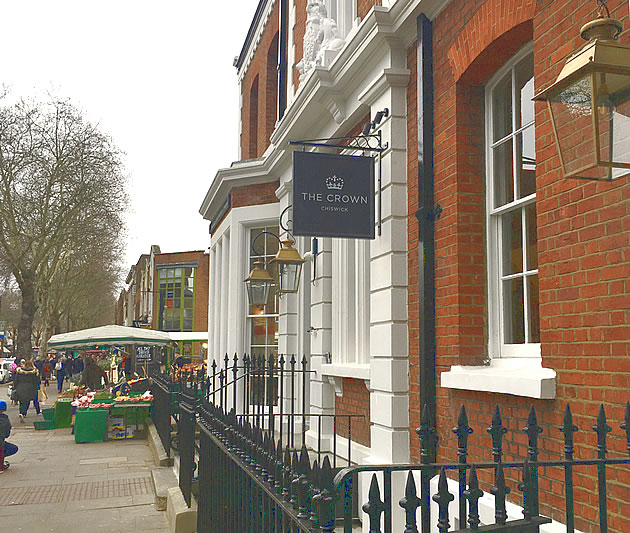 The Crown will formally open on 1 February, Chiswickw4.com can reveal. However, local people can avail of its soft launch discounted offerings from 22-31 January.
Last minute work is currently being carried out to the interior decor and a menu is being drafted which will have classic French and Italian influences.
The Crown are offering 50% off of all food for bookings during the Soft Launch period before the formal opening date.
To redeem this offer, customers need to go onto the Crown website and enter their email address in the requisite box. They will be automatically contacted when the booking process is live.
Tables will be available on a first-come-first-serve basis and must be booked via email, with bookings of up to 10 people allowed.
Chef Henry Harris, formerly of Chelsea eatery Racine, says the team are very excited to finally open in Chiswick. Both Henry and the new manager of The Crown, Ruth Leigh (Le Café Anglais) who is a daughter of Rowley Leigh, are local to west London.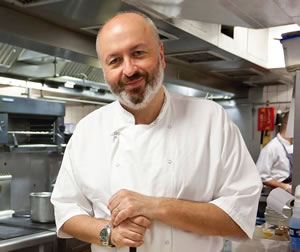 Henry Harris
The Head Chef will be Sicilian born Daniele Zaffora who has worked with Henry previously at Racine as well as at Dover Street Arts Club. Daniele's Mediterranean influence will be visible across the menus.
The new Crown at 210 CHR will offer a seven-day a week, all-day menu, from morning breakfasts, onto casual or formal lunches and dinners. The seventeenth century building is set across 2 floors, over a total area of almost 6,000 square feet. Formerly a police station and stables, the space has capacity for up to 120 covers, containing a bar, dining room, courtyard, and 2 private dining rooms.
Interior designer Liana Braune (founder, Zaffera London) is currently busy with the interior, which will be "a fluid and inviting space, where inside and outside are seamlessly combined."
We can that reveal that guests will step through a double-fronted entrance into a bar space that is dotted with high stools, poser tables and has a large brass bar as centrepiece. Beyond this, the dining room will feature floor-to-ceiling windows that look out both onto the street and onto the internal courtyard that has been designed by local landscapers.
The launch of The Crown had been delayed due to unexpected building issues, but the owners confident that all will go according to plan at this point.
The Crown will be the fourth site from Harcourt Inns, a collection of London based pubs with dining rooms, following Three Cranes in the City (2017), The Coach in Clerkenwell (January 2018) and The Hero of Maida in Maida Vale (May 2018).
The project is especially significant to Henry Harris who, having lived locally for the past 21 years, has always envisioned developing a pub in his own neighbourhood.

Henry Harris will continue to work with his network of suppliers of the last thirty years, such as HG Walter in Baron's Court; Cove South West of Poole Dorset; and Vernon Mascarenhas of Nature's Choice. More locally he will continue to work with Natoora; his wife Denise, of Harris Vintners; and the Baker family who have the greengrocers adjacent to The Crown.
The drinks selection will include beers and ales from local breweries, such as Fullers' London Pride and Portobello Brewery, and the wine list will include grower Champagnes, and French spirits such as Cognac, Armagnac and Brandy. Classic cocktails will also feature.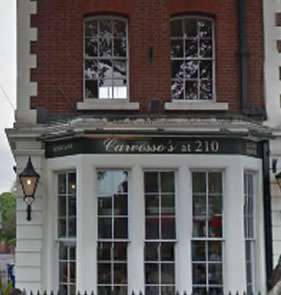 The former Carvossos's
A retractable canopy roof will enhance the outside courtyard space, making it accessible all year round. There will also be a visible wine cellar, occupying the old jail cells, along with two private dining rooms, all of which open onto the main areas.
You can read our previous interview with Henry Harris here.
January 10, 2019