Henry Harris speaks exclusively to us about the new restaurant on the Carvosso's site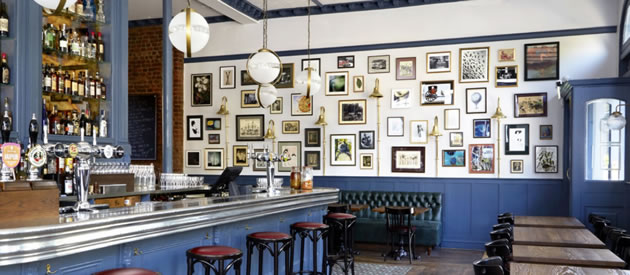 The interior could look similar to their latest pub in Maida Vale
The former Carvosso's at 210 Chiswick High Road is to be reopened as The Harlot with a launch for the new restaurant planned in November.
The provocative new name for the former police station, was inspired by William Hogarth's eighteenth-century series of prints, The Harlot's Progress, and the decor will reflect Chiswick's historical heritage.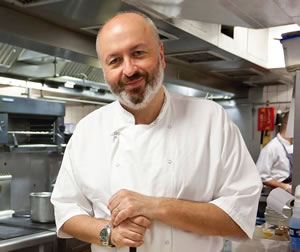 Henry Harris
Award-winning chef director Henry Harris, formerly of Racine in Chelsea, told ChiswickW4.com that The Harlot will offer a seven-day a week, all-day menu, from morning to breakfasts, onto casual or formal lunches and dinners. Private dining will also be available. The pub expects to cater for 100-120 covers.
Henry said, "We see The Harlot as being a neighbourhood pub first and foremost, with very good food and drink - somewhere people who live and work locally will come and enjoy but of course if it becomes a destination restaurant, that's also good news for us.
"There will be a good balance of choice to meet everyone's tastes and dietary requirements. Overall there will probably be a strong Mediterranean influence. As the Head Chef is from Sicily there's likely to be some lovely Italian food, there will be influences of the bourgeois French cooking that I am known for, there will be a fantastic Sunday roast lunch available, rare roast beef, crunchy roast potatoes, the lot. There will be really good fish, really top quality meat, all my suppliers have been with me for years. Where possible we focus on small independent family owned businesses, whether it's for wines, ciders, cheeses, or meat.
"We will offer a wide range of options, from sausage rolls and welsh rarebit to eat while having a drink, to a good French soup, a simple salad of tomatoes dressed with olive oil, cheeses, charcuterie, and of course proper full dining options."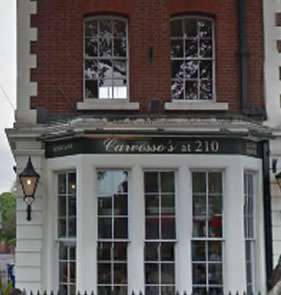 Carvossos as it was
Work has now begun in earnest refurbishing the new premises, which will see the bar repositioned downstairs to make the downstairs entrance area more spacious. The original plan for an outside terraced dining area with a retractable awning has been shelved. Instead the black Victorian railings will be retained and there will be some outdoor tables.
The drinks menu will include cocktails, Fuller's Pride, and a range of beers from family-run breweries. Wines will range from Old World names to up-and-coming vineyards. They will also offer grower champagnes from independent producer and a wide selection of spirits and apéritifs.
Henry added, "Dining is about restoring or spoiling yourself, or giving a bit of comfort, whether that's done for one person or a group of twenty, whether it's feasting or a range of sharing platters. This is our fourth property and the challenge for me in Chiswick is the same as what I am faced with everywhere. making sure I deliver good food and good service."
He has prior Chiswick links in the restaurant business as he oversaw the menu at High Road House, says he will also be a frequent presence in The Harlot. "I like being in the kitchen, it's where the good things happen."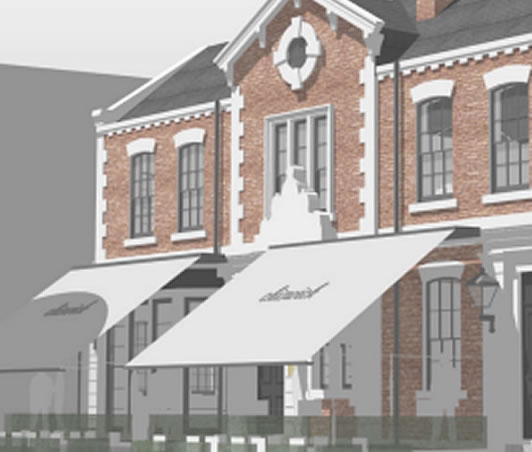 Artists impression of the al fresco dining area but this verandah idea has now been dropped
The pub is the fourth opening from Harcourt Inns, a collection of four pubs with dining rooms set up by Henry Harris together with business partner James McCulloch. Their most recent opening was The Hero of Maida Vale.
The Carvosso's site has a total area of almost 6,000 sq feet and is situated in a 17th century building that was converted from a former police station and stables into a large bar, two restaurant dining areas, a sitting room and four private function rooms, all wrapped around a stone courtyard.
The Harlot will still retain most the previous layout for the dining areas, with the main change being the relocation of the bar to free up the lobby area to be of more use as a pub. The decor is likely to feature mahogany tables and chairs, leather banquette seating, antique mirrors, and artworks which reflect Chiswick, all being put together by interior designer Liana Braune. The colours and feel will reflect the history and the origin of the building, said Henry.
The two original police cells will be used for wine storage and a room facing onto the Windmill Road side may be retained for private dining.
Work on the upstairs room, formerly a function room, will probably not commence until after Christmas. The open air dining space in the courtyard will be linked to a comfortable dining room with banquettes with foldback doors and a retractable awning.
Local company Wheelers will carry out any planting and landscaping The manager of the pub will be Ruth Leigh (daughter of Rowley Leigh) who is formerly of Cafe Anglais.
Having lived for twenty years in Acton, Henry says he has long wanted to open a place in his neighbourhood and he is aware that Chiswick people will want good value. Prices will be mid-range, with mains between approximately £14-20 and the house wines coming in at under £20. But he says there will be no compromise on standards.
"I'm not happy to serve up any food or drink to customers that I wouldn't be happy to feed to myself or my family."
The Carvosso premises has been idle for a considerable period of time. The group behind the pub say this is because they had been concentrating on other projects within their stable of restaurants. They said they wanted to spend time getting the Chiswick site right, and the delay was not related to funding problems or the challenging economic conditions in the restaurant industry.
Henry remains optimistic that The Harlot will be a welcome addition to Chiswick, despite the challenges of opening a new pub.
"It's a tough industry at the moment. Business rates are high, good staff are scarce, and food is going up in price all the time- we will do a set lunch, and there will be offers. But we are excited and optimistic that we can deliver."
September 7, 2018