Tells him of constituents' anger over prevalence of this crime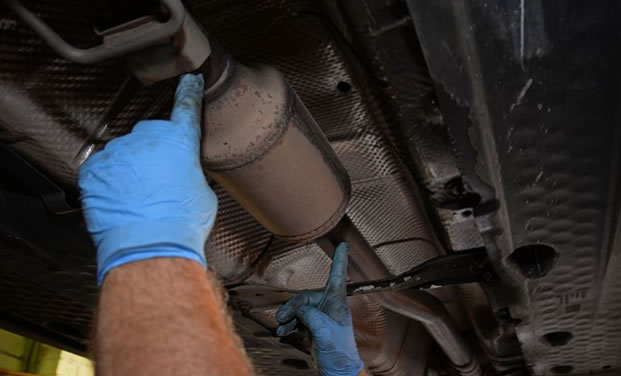 Catalytic convertor. Picture: RAF Mildenhall
The MP for Brentford and Isleworth, Ruth Cadbury, has written to the government minister responsible for policing demanding action on catalytic converter thefts.
In her letter to Kit Malthouse, Ms Cadbury raised the impact that this has had on a number of local residents and asked the government what plans it had to tackle this issue, especially after the large spike in thefts in recent years.
There has been a dramatic increase both locally and nationally with the number of thefts in London up by 455% to 8,248 in 2019.
What has been described as an epidemic of thefts has taken place in her constituency recently.
Vehicles of choice are Lexus, Toyota Prius and Honda Jazz hybrid cars, and some owners reportedly have now had catalytic converters stolen for a second time, prompting them to put the car up for sale.
The parts are being stolen to strip them down for the valuable metals they contain such as Platinum and Palladium, which can be double the value of gold. It can take around 60 seconds for the convertor to be stolen.
Speaking about this issue Ms Cadbury said, ''A number of local residents have contacted me after they or their neighbours had catalytic converters stolen. I know how rightly angry many residents are about this, especially because of the high cost and inconvenience of getting them replaced.
"I've raised this issue with Hounslow councillors and with the policing team in West London. However it's clear that we need to see action from the Home Office and Government Ministers to tackle the surge in thefts we've seen.
"That's why I've written to the Policing Minister and have urged the Government to act to tackle this spike in thefts.''
She asked the Minister what discussions are taking place with car manufacturers and the police, whether any moves are being made for a marking system for the parts and if any amendments to the 2013 Scrap Metal Dealers Act is being considered to stop the sale of stolen parts and the valuable metals contained in them.
The video below shows how thieves can remove a catalytic convertor in a minute.
October 22, 2020