Largest field ever to contest the election on 6 May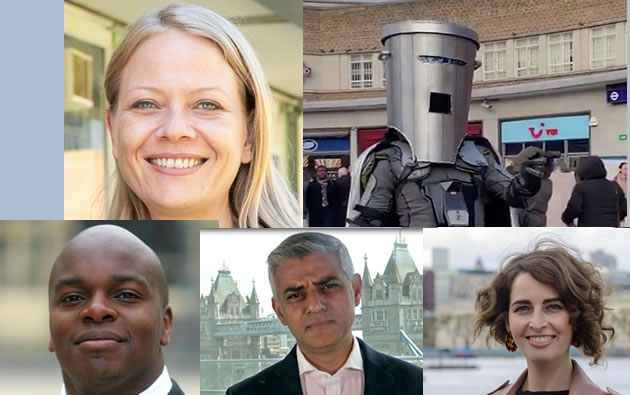 Some of the candidates - clockwise: Sian Berry (Green), Count Binface, Louisa Pollitt (Liberal Democrat), Sadiq Khan (Labour) and Shaun Bailey (Conservative)
Londoners will head to the polls on Thursday 6 May to vote for the next Mayor of London, and we now know all the candidates who will be appearing on the ballot.
A record-breaking 20 candidates have announced they will be standing in the mayoral election, which was postponed last year due to the Covid-19 pandemic.
Standing alongside the candidates representing the traditional political parties are two popular Youtubers, several independents, and candidates representing smaller parties.
This year's election also sees the formation of several new political parties, including Laurence Fox's Reclaim Party and Brian Rose's London Real Party.
The full list of candidates standing to be Mayor of London, in the order they will appear on the ballot, is as follows:
Shaun Bailey – Conservative Party
Kam Balayev – Renew
Sian Berry – Green Party
Count Binface – Count Binface for Mayor of London
Piers Corbyn – Let London Live
Max Fosh – Independent
Laurence Fox – The Reclaim Party
Peter Gammons – UKIP
Richard Hewison – Rejoin EU
Vanessa Hudson – Animal Welfare Party – People, Animals, Environment
Steve Kelleher – Social Democratic Party
Sadiq Khan – Labour Party
David Kurten – Heritage Party
Farah London – Independent
Valerie Brown – The Burning Pink Party
Nims Obunge – Independent
Niko Omilana – Independent
Luisa Porritt – Liberal Democrats
Mandu Reid – Women's Equality Party
Brian Rose – London Real Party
In order to have been included on the ballot, candidates will have had to secure 66 signatures from registered voters in London, two in each borough and two from the City of London.
Candidates will have also had to pay a deposit of £10,000 to have their manifesto included in a booklet sent to all voters, with the deposit only returned if they secure at least five per cent of the votes.
According to the latest opinion polls, only four of the 20 candidates are expected to reach at least five per cent of the vote and have their deposits returned.
More information on both the London Mayor and London Assembly elections can be found on the London Elects website.
Joe Talora - Local Democracy Reporter

March 31, 2021