Local amenity group concerned it may indicate project is to be revived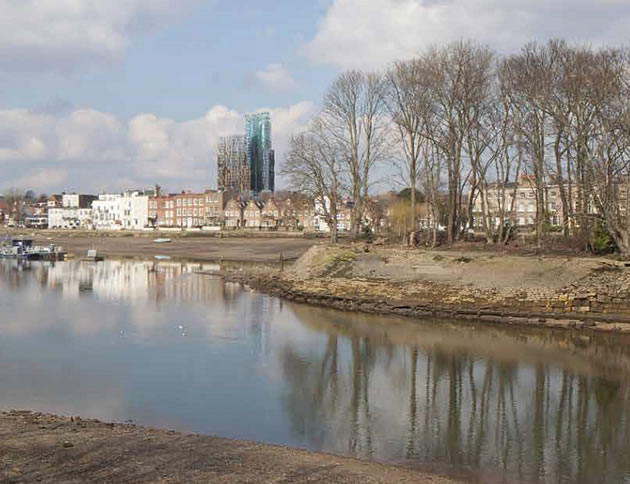 The Chiswick Curve from Strand on the Green
A local resident's group is raising concerns about an appeal being made by the developer of the Chiswick Curve over LED advertising screens ((00505/EY/AD22) that were proposed to be located on the building.
The chair of the West Chiswick & Gunnersbury Society, Marie Rabouhans said that her group had received a letter from Hounslow Council informing them that Starbones Ltd had submitted an appeal against the refusal of the advertising screens.
She said that because this appeal would be considered by the Commercial Appeals Service, there was no possibility of any hearing or public enquiry and residents would not be able to submit any fresh comments. It would be up to an Inspector to make a site visit and decide whether to grant the appeal or refuse it.

" To put it simply we are very curious. Why would you appeal against the refusal of adverts which are integral to a building and yet not appeal against refusal of the building itself.One has to wonder what the developer's strategy is, especially recalling the controversy surrounding the Octopus."
The company has, meanwhile, also submitted an application for two LED screens (00505/EY/AD23) to be mounted on a free-standing pole. This application describes the screens as temporary and requests permission for three years.
WCGS have submitted objections to this latter application on the grounds that "The size of the proposed media screens and their height above ground would serve to emphasise the brutal, alienating overhead intrusion of the flyover to the detriment of the domestic, human scale of the surrounding residential streets. They would intensify the negative impact of existing advertising screens."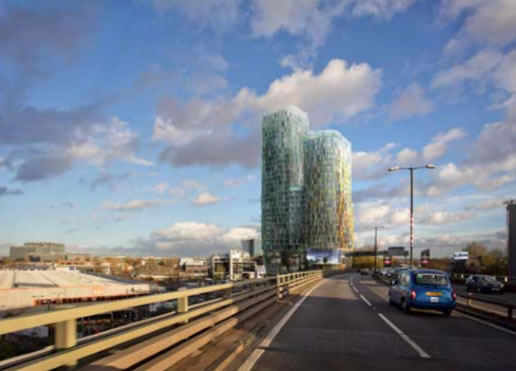 A view from the A4 of rejected scheme
May 22, 2017