Increase required as condition of government funding to TfL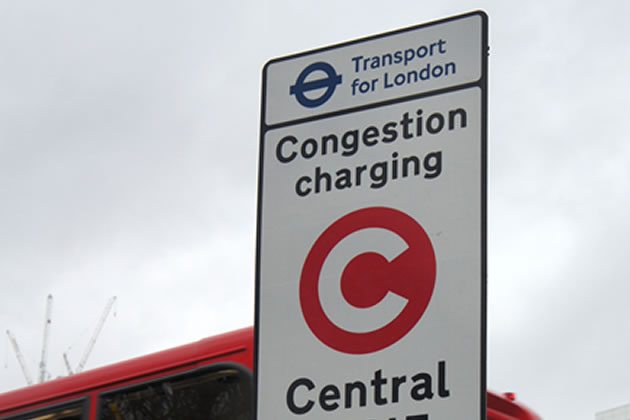 Rise in charge was originally meant to be temporary. Picture: TfL
The "temporary" £15 Congestion Charge is set to be made permanent and its hours of operation reduced following a public consultation, TfL announced this Wednesday (28 July).
As part of the Government's emergency funding deal in June last year, TfL was required to increase the charge from £11.50 and it became enforceable until 10pm seven days a week.
Although Mayor of London Sadiq Khan and TfL said this change would be temporary, TfL has now revealed it intends to keep the £15 charge while reducing the hours it operates to "support the capital's culture, hospitality and night-time businesses" – pending a public consultation.
Under the new proposals, the £15 charge would be in effect from 7am to 6pm during the week and from 12pm to 6pm at weekends.
There would be no charge between Christmas Day and New Year's Day while weekend hours would apply on bank holidays.
Mr Khan has said any changes to the Congestion Charge must "strike the right balance" between supporting London's economic recovery and ensuring it is "a green and sustainable one".
Mr Khan said, "The Government insisted on the widening of the level and scope of the Congestion Charge last year as a condition of TfL's emergency funding agreement – which was only needed because of the pandemic. As we look to the future it's vital the charge strikes the right balance between supporting London's economic recovery and helping ensure it is a green and sustainable one.
"These proposals support the capital's culture, hospitality and night-time businesses which have struggled so much, as well as encouraging people to walk, cycle and use public transport. We must not replace one public health crisis with another due to filthy polluted air, and our measures to create more space for walking and cycling have already had a huge impact. I urge Londoners to have their say and take part in the consultation."
The increased Congestion Charge has so far netted TfL an additional £155 million in revenue, Mr Khan revealed to the London Assembly earlier this month.
Despite an increase in passenger numbers since lockdown restrictions began to ease, TfL must still make savings of £300 million this financial year.
Last month saw more than 2.4 million vehicles pass through the Congestion Charge zone during charging hours, the highest number since March 2017.
According to TfL, congestion in London cost the economy £9.5 billion in 2017, with drivers spending an average of 71 hours in gridlock during peak hours.
Alex Williams, TfL's director of city planning, has said the new proposals are a "balanced package of measures" that will be "vital" to supporting the logistics industry while "encouraging people to walk, cycle and take public transport".
The Mayor of London has set a target for 80 per cent of all journeys in London to be made by walking, cycling or public transport by 2041.
The proposed changes are set to come into effect in February 2022 and Londoners can have their say by visiting the TfL website where the public consultation will run until 6 October.
Responding to the proposal of the changes to the Congestion Charge, FSB London Infrastructure Chair, Michael Lloyd, said, "Whilst we understand the financial predicament facing Transport for London, now is not the time to penalise small firms who are struggling under the sheer weight of doing business. The move to support the night time economy by removing the Congestion Charge in the evening is welcome, however, for many businesses who carry out activities in the day on the weekends such as logistical companies and market traders, having a permanent £15 charge between the hours of 12:00-18:00 on weekends will be another bitter pill to swallow. As the cost of transport is continuing to increase for small firms, proper consideration must be given urgently to reintroduce the Diesel Scrappage Scheme that will help thousands of London small businesses."
Transportation industry association Logistics UK welcomed the proposals to revert the operational hours of the Congestion Charge back to the original weekday timings in place before the Covid-19 pandemic but added, "Logistics UK opposes the proposal to retain the higher £15 charge and weekend charging, which simply amounts to an additional tax for logistics businesses who currently have little alternative but to use lorries and vans to keep London stocked with all the goods the population needs."
Joe Talora - Local Democracy Reporter

July 28, 2021