Visual Art Exhibition showcases scenes from James Joyce's masterpiece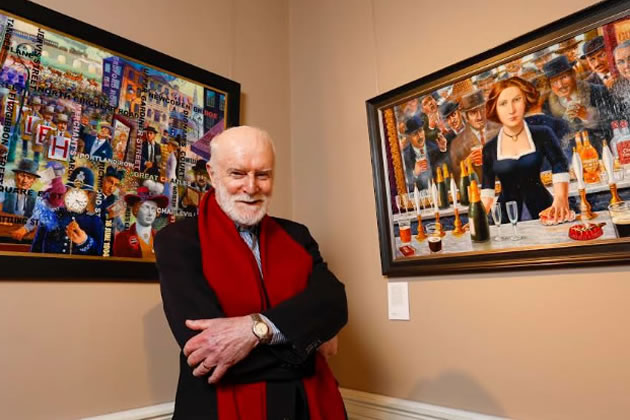 Artist Aidan Hickey
An exhibition of paintings depicting scenes from 'Ulysses', the literary masterpiece of Irish writer James Joyce, is on at the Irish Centre, in Black's Road, Hammersmith, to mark the 100th anniversary year of the publication of the literary masterpiece. The paintings, scenes from each of the 18 chapters of the book, are the work of leading Irish artist, Aidan Hickey.
The exhibition will run from 9 June to 31 August 31st, and was unveiled by Joycean actor Frank Grimes.
As each of Joyce's episodes in ULYSSES was written in a different literary style, Hickey has
designed each painting in a different visual style. The images have two sources, his responses to the Ulysses text and his eclectic exploration of European art history.
Aidan Hickey studied painting at Ireland's National College of Art. He spent his a lot of his career
drawing and writing animated films. He has made many TV series' and short-films and
received many awards at various international Festivals. In 2005 he wrote and
directed The Boy Who Had No Story, winning the IFTA prizes for Best Animation Film and
Best Children's Film.
Regarded as one of Ireland's leading painters, Aidan Hickey has had exhibitions all over
Ireland and internationally, including ones at Green Acres Gallery in Wexford. His portrait
of Bram Stoker hangs in the Dublin Writer's Museum. His portrait of Colm Toibín, was
acquired by Wexford Council and hangs in Enniscorthy Library.
Over many decades Aidan developed a narrative style of painting. Around six years ago he
decided that Joyce's 'Ulysses' offered the perfect subject for him.
This spectacular exhibition "Painting Ulysses" was recently on display at the famous
'James Joyce Centre' in Dublin.
The ICC has been the home of Irish culture for the last 25 years and became a registered charity in 2013. In 2017 it re-opened a new building on the site, containing a new foyer, bar and mezzanine area.The centre has a large performance auditorium together with several rooms for cultural events and performances of Irish music, film, literature and art, as well as educational classes, lectures and conferences. It is now a popular centre with members of the Irish diaspora of all ages.
During the pandemic, the Centre set up ICC Digital to provide a virtual platform for Irish writers and musicians.
Alongside their commitment to deliver the best Irish arts and education outside Ireland, the Centre plays an active role in the wider community with open-access programme for all ages, interests and backgrounds. Its work was recently highlighted by a visit from Prince Charles and Camilla, Duchess of Cornwall.
Anne Flaherty
June 10, 2022