Warn residents that new treatments may take longer to have an impact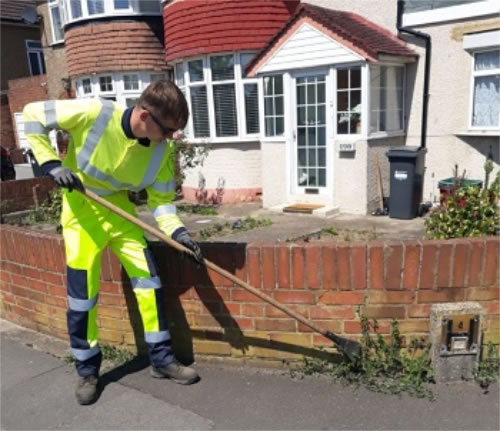 Hounslow Council says it has been significantly reducing the use of herbicide for the management of weeds throughout the borough.
The use of specific herbicides is being restricted and only considered when it is not viable to use non-chemical alternatives, for example, controlling the spread of an invasive species such as Japanese Knotweed.
Removing herbicides does present operational challenges, herbicides have always been considered a cost-effective solution due to their less labour-intensive results. Hence, they are requesting residents to remain patient as non-chemical treatments generally take longer to impact weeds, usually an additional two to three weeks.
This approach is fully supported by their service providers Hounslow Highways across public highways and Greenspace 360 in parks and open spaces, enabling all the borough to become more hospitable to plants. Both operations have already overseen the introduction and management of natural wildflower sites that continue to flourish.
This reduction is part of the council's stated commitment to a cleaner, greener Hounslow, further promoting biodiversity and increasing green infrastructure.
They say residents can also contribute to reducing the use of herbicides at home and on allotments by:
• Treating existing hard surfaces (paths and driveways) containing weeds by manual removal, boiling water, or by a thermal killer, providing directed heat to remove weeds.
• Preventing weeds by covering the soil in between plants with thick layers of compost, shredded bark, cardboard, newspaper or other organic material. This process called 'mulching' suppresses weeds and feeds the soil beneath.
• Applying organic weed killers containing pelargonic acid (a fatty acid) – attacking the top growth.
Cllr Samia Chaudhary, Cabinet Member for Leisure Services at Hounslow Council said, "Our parks and open spaces are among the finest in London and contribute so much to the local environment. The restriction on herbicide is a significant step towards further supporting wildlife and biodiversity in Hounslow."
Cllr Guy Lambert, Cabinet Member for Highways, Recycling and Trading Companies at Hounslow Council, said, "I am sure residents will appreciate the commitment of Hounslow Highways staff to manage weeds in an environmentally friendly manner while ensuring our streets are hazard free and look aesthetically good. I encourage residents to join us by reducing chemical treatments in their gardens and help attract even more pollinators and insects."
For more information on weed treatment in Hounslow, see here.
June 30, 2020