Phased return may mean no swimming pools until September at the earliest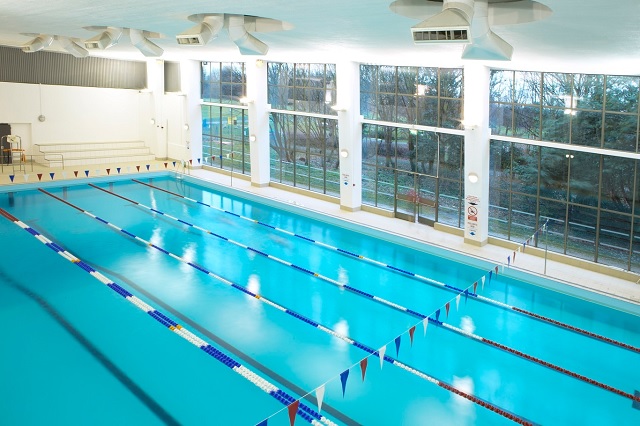 The pool at Isleworth Leisure Centre
Leisure centres such as the Fountains in Brentford, New Chiswick Pool and the Isleworth Leisure Centre are not going to reopen this weekend despite government guidance allowing them to do so
The facilities, which are operated by Fusion Leisure on behalf of the London Borough of Hounslow, have been cleared to restart but will be returning on a 'phased basis'.
The Government published revised guidance on 9 July that indoor gyms, leisure centres and swimming pools could reopen from 25 July if they were ready.
Hounslow Council says it is working with Fusion to establish plans to ensure the new criteria can be met and the facilities can reopen safely and that their priority is that all residents, customers and staff are protected from the virus, and customers can have full confidence that the centres are safe to use.
None of the borough's centres will be available from this weekend and no dates for reopening have been given. Users of New Chiswick Pool have been advised that there is the possibility of a 'dry offer' in August but this was not confirmed and no indication has been given when the pools will reopen.
The new guidelines include introducing timed bookings for workouts and restrictions on showering; no towels allowed on the gym floor; at least two metres distance between all available gym equipment and studio space; all touch points such as weights and other equipment to be cleaned down after use; and social distancing enforced throughout, including changing rooms, with no more than one gym user or swimmer for every three metres of space.
The District Council's Network (DCN) which represents local authorities across the UK has said that, without a financial rescue package, many of their members believe that some leisure centres may not reopen.
Councils are concerned a financial hit of around £305 million this year will cause many leisure providers to go bust, while those that might survive would offer reduced services and hours. However, Hounslow have not expressed any concern about Fusion who asked members of these facilities to continue paying a voluntary monthly charge of £10 to support them during lockdown.
Cllr Dan Humphreys, DCN lead member for enhancing quality of life, said, "After months of lockdown, and being unable to visit their local gym or swimming pool, it would be a devastating blow to communities to find they no longer have their local leisure centre, once we come out of this pandemic.
"But the sad reality is that our leisure centres are in a crisis right now. Their income has plummeted and some may never recover without a lifeline from government which helps stabilise leisure centres in the short term".
Cllr Samia Chaudhary, Cabinet Member for Leisure Services at Hounslow Council said, "It is essential that we put the health and safety of our residents, staff and volunteers first, and this means we will only reopen our leisure centres and swimming pools when we are absolutely certain it is safe to do so. We are working closely with Fusion, our leisure provider, to ensure that when we can reopen we do it in a carefully planned and managed way, so that customers can be confident that they are being looked after, and can use the equipment in a safe and enjoyable way."
The guidance, published by the Department for Digital, Culture, Media and sport, has been complied with input from trade body UKActive, the Sport and Recreation Alliance, Sport England and the Health and Safety Executive.
Fusion will be writing to all their members, and further updates will be available as soon as they are agreed.

July 24, 2020