Rupa Huq describes schemes as rushed and poorly thought through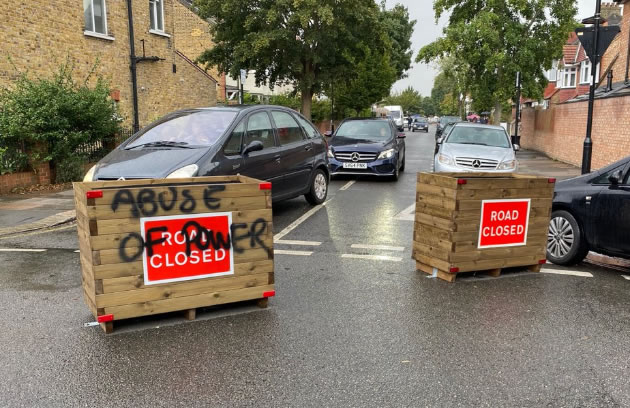 Traffic schemes in Ealing borough have been controversial
Ealing Central and Acton MP, Rupa Huq, has written to Ealing Council asking for a series of question on the borough's Low Traffic Neighbourhood Schemes to be answered.
She says in the letter, "Though we can all agree that encouraging sustainable modes of transportation and discouraging unnecessarily short car journeys is, on the face of it, compelling, I fear that the Council's imposition of LTNs has been poorly thought through and rushed into place without prior consultation."
The twelve questions cover issues such as access for emergency services, a request for clarification on the timeline for the trials and what evidence and criteria the council will be using in making their decision.
A request is made in the letter to have details of the revenue likely to be generated by the LTNs broken down by each scheme.
She also queries the choices made about locations of the scheme saying that some appear to be in areas with no pre-existing problem and others such as those near the Hanger Lane gyratory might have had more need for traffic reduction.
She also wants the council to commit to publishing impact and risk assessments including comments from emergency service workers at the local level who have more on-the-ground experience in dealing with these schemes.
In addition, the MP says it would be a serious flaw in the implementation of the scheme if no equality impact assessment is published as she is concerned that black and minority ethnic business owners have been disproportionately affected.
Dr Huq raises concerns about a lack of consultation with people living in the area who are registered as disabled and the placement of planters so that they are next to dropped kerbs.
She expresses doubt that traffic on the distributor roads onto which vehicles are being displaced will dissipate as the scheme proceeds and says that residents on these roads are already exposed to too high a level of pollution.
On consultation responses she asks if full names and addresses will be required when giving feedback.
Her final question says that she has been told that the Council are considering the use of ANPR cameras which they announced they would be doing after the receipt of the letter. Dr Huq said, "Is this an indication that its mind is made up that these schemes will continue regardless of what local residents' opinions of the trial are?"
She concludes by saying that although the schemes are no doubt well-intentioned, Ealing residents, the majority of whom are 'passionate about reducing emissions' need democratic input into changes that 'many have found drastic in scope and introduced all of a sudden.'
The MP has not reported receiving a response from the Council.
Residents can visit the low traffic neighbourhoods' page of the council's website for further information on the schemes.
Residents can email feedback to TrafficNotices@ealing.gov.uk, or post them to the Highways Service, Perceval House, 14-16 Uxbridge Road, W5 2HL, quoting reference ORD XXX.
Two further low traffic neighbourhood schemes are planed for Loveday Road, W13 (LTN 30) and West Ealing North, W13 (LTN 20).
An online petition against LTNs in Ealing has been signed by over 8,000 people. A counter petition in support of the new schemes has, at the time of writing, over 500 signatures.
September 24, 2020