Industry says it is in crisis due to coronavirus pandemic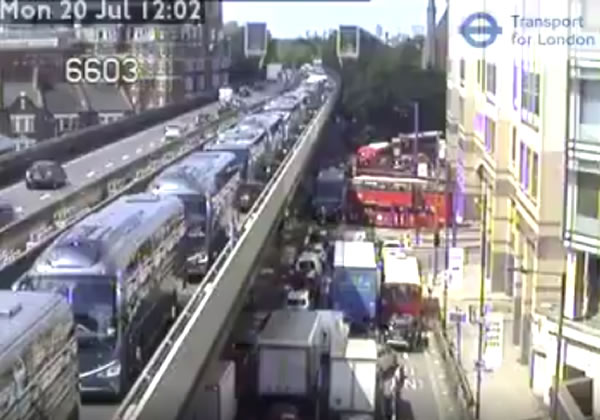 The convoy of coaches making its way over Hammersmith Flyover
A procession of over 500 coaches made its way down the A4 through Hammersmith and Chiswick as part of a protest this Monday (20 July).
The drivers were part of the 'Honk for Hope' demonstration that was en route to Parliament Square to raise awareness of the current situation of the industry.
The coaches blew their horns as they made their way through west London and continued to do so until the police told them to stop after complaints about the noise were made from the Palace of Westminster.
The resulting traffic on the A4 into London stretched back towards the junction with the M25.
Coach businesses say they haven't been treated fairly by the government in the wake of the pandemic with many in the convoy saying they face bankruptcy. This should be the peak season for the industry with summer tours usually leading to plenty of bookings but many coaches are unused and drivers remain on furlough.
The lack of revenue raises issues over finance for the industry as many are struggling to meet payments on vehicles with some business owners facing the loss of their home as it was used as additional security. They are asking for government support in helping them cover finance payments and an extension of the furlough scheme for the industry as well as the removal of personal guarantees from loans to stop them becoming homeless.
Jenna Rush, from North East Coach Travel, who organised the protest said, "We know that we will not move again until next year, and we cannot meet our finance payments for the rest of the year without some form of government support."
On 15 July Ministers rejected proposals of further financial help put forward by the Confederation of Passenger Transport (CPT).

July 21, 2020