Visit this gem of a bookshop for half price books all month (Ad)
2021 – Fast backwards 210 years …
"Adieu, thou damned'est quarantine, that gave me fever and the spleen!" Byron leaving Manoel Island (Malta) after 18 days quarantine in 1811 (Malaria? Brucellosis?)
Backwards 5 years: Incidentally Byron's house in Valletta was the same one that Samuel Taylor Coleridge lived in 5 years earlier when he served as Secretary to Malta's British Commissioner.
Plague free then.
… hurtle back even further – 429 years, to 1377 – to the first quarantine in the Venetian colony city of Dubrovnik. Arrivals had to spend a month (odd because "quarantine" derives from the Italian 40 days: "quaranta giorni") on the island of St. Mark. That one was the Black Death.
Forward once more – 643 years.
In March 2020 1.7 billion people were in isolation; when, oddly, negative reviews of scented candles and plummeting sales started to happen … spot the first symptom? Covid – loss of sense of smell … alert … alert! Offload all candles pronto.
Or not, if you're Osterley Bookshop (don't check the business model – maybe why we're still here?). Do buy roughly 2000 odd books on the 6th December 2020 just before the unexpected (really? Unexpected - for the third time?) lockdown happened on the 21st December, just in time for no Christmas sales … or anything until April this year.
So … we've 2000 books queueing at the shop door awaiting their time in the limelight (lime is a good anti-germicide, used against the plague in the 1660s) once you've made room for them … please.
So, long way round (in fact 643 years' worth): It's our Annual September Revamp & Renewal Sale. This year all books under £10 are half price (that's most of them!) – As in "All Books Under £10 Half Price!!" From 10 a.m. the 1st September to 5.30 p.m. the 30th September.
Everything from first editions, pulp fiction, proof copies, paperbacks, cookery, architecture, archdukes etc., all at half price. Crikey!
We're rubbish at blowing our own trumpet (it's why we run a bookshop, not an orchestra) so, please, check the reviews of our shop on Google, Yelp etc. Some gems in there – although some are frankly puzzling as they point to some form of eccentricity – maybe because we can't resist books like "I am a Guinea Pig" by James Insight?
We've been featured on 'The Robert Elms Show' BBC Radio London; as The Bookshop in the film 'The Buddha of Suburbia'; and in the Desi Movie "Strangers", featuring Nandana Sen. Despite being two minutes from Robert Adams' masterpiece Osterley House, the Guardian newspaper described us as 'The Jewel in Osterley's Crown'.
Oh, and for non-bookists we've a tiny room stuffed full of curios, and an equally peculiar range of greetings cards.
Easy parking (half hour free, and no charges on weekends). Only 10 mins by car and 15 by bus (H91) from Chiswick. Seven days a week 9.30-5-30. Situated in the old railway station opposite Osterley Park entrance, 168A Thornbury Road, Osterley, TW7 4QE. Tel: 020 8560 6206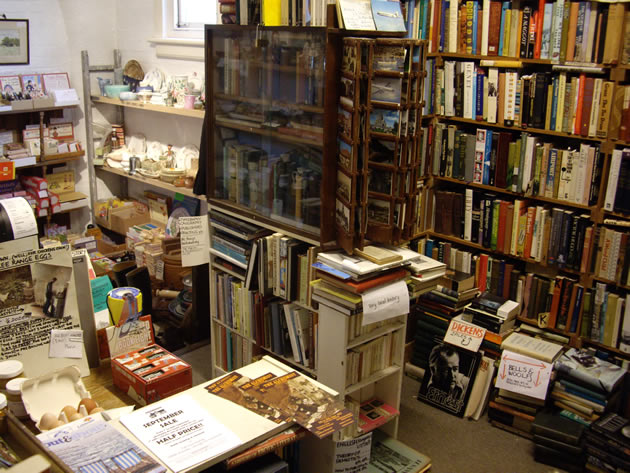 Advertisement
August 16, 2021