Refrigerated vans and cargo bikes added to fleet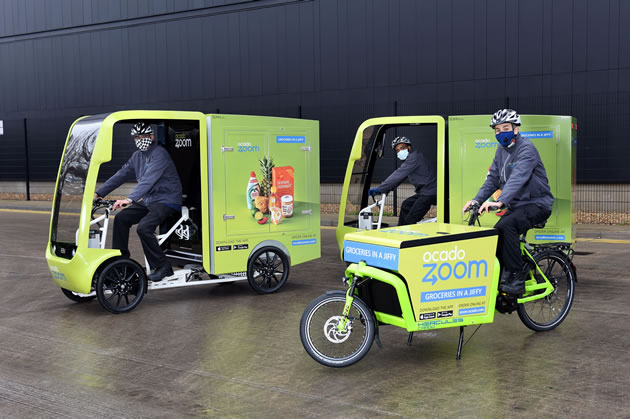 The new vehicles in Ocado Zoom's delivery fleet
Grocery deliver service Ocado Zoom is currently holding a trial of electric assisted and pedal-powered vehicles based at its depot on Bollo Lane.
It says that initial customer feedback in the Chiswick and Acton areas has been very positive since the vehicles went into service at the end of January.
The vehicles involved include electric refrigerated vans, refrigerated EAVs (electric assisted vehicles) and pedal-powered cargo bikes which can travel up to 40 miles thanks to innovative refrigeration capabilities.
Ocado Zoom says this means that they can deliver more orders per trip taken reducing the number of vehicles on the road and that every delivery made in these new zero-emission vehicles replaces the need for the use of a petrol van, car or moped. The trial is part of Ocado Retail's target to become Net Zero by 2035.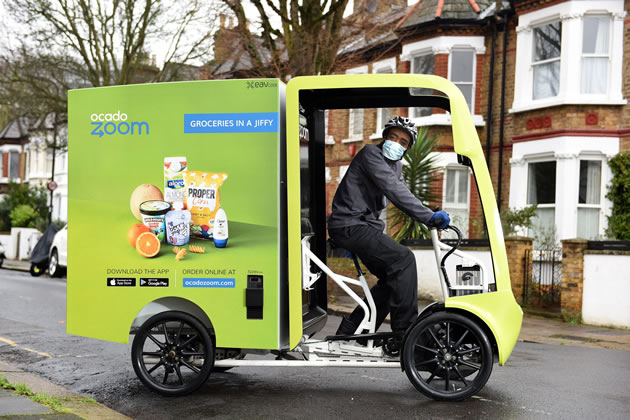 An Ocado Zoom van on a delivery locally
George Dean, Head of Ocado Zoom said, "We're really excited to see a new generation of vehicles out on the road. We're committed to reducing our carbon footprint and being the best neighbour we can, whilst delivering groceries to our customers as fast as possible. This trial is an important step in what I hope will be a rapid expansion of our non-emitting fleet".


February 3, 2021