Serving a range of CBD infused products including Coffee, Tea, Lemonades, as-well-as CBD snacks (Ad)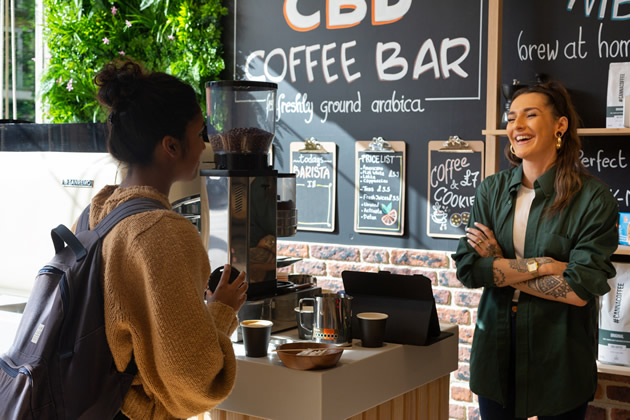 Origin'40 is a CBD specialist retailer that opened on Chiswick High Road in 2020. Having served over 2,000 customers in our community they have introduced an exciting new Coffee bar to their boutique store.
Origin'40 stores are unique in their offering of expert in-store advice, doing everything they can to engage and assist local communities by demystifying CBD to those who are interested in learning about the benefits. The company believes the addition of a coffee bar will help further start conversations about the benefits of CBD and further break down negative pre-conceptions about the cannabis/hemp derivative.
The Origin'40 'CBD Coffee Bar' serves a range of CBD infused products including Coffee, Tea, Lemonades, as-well-as CBD snacks such as cookies, snack bars and sweets. Expert baristas are trained in both coffee making but also the intricacies of CBD to be able to answer any questions customers have.
CBD stands for cannabidiol, a natural compound of the cannabis plant that is considered a natural remedy for many common ailments including Anxiety, Sleep, Pain and Skincare. CBD oil is made by extracting the CBD content from cannabis plants. This makes the CBD oil easy to use in various applications such as applying it directly to the skin, adding it to food and beverages, or placing a drop under your tongue.
The addition of CBD in coffee can alleviate some of the negative symptoms of caffeine, such as jitters, whilst still providing the same energy kick of a usual cup of coffee. When combined Coffee and CBD can also help to boost your mood and keep anxiety levels at bay.
Marcus Fox of Origin'40 said " We're very excited to be launching our first café concept in Chiswick, which has become Origin'40's spiritual home over the past year. We've met over 2,000 amazing local customers since we opened, and one of the best parts of being here in Chiswick is how many of our customers come back regularly and spend time with our teams in store. We're really hoping the café helps us do that even more, giving people the chance to experience a better way of enjoying coffee with less of the negative side effects, as well as providing new ways of helping people get CBD into their everyday routine.
But it's also an important part of our mission to create spaces at the heart of our communities, where people can dwell, bring friends who might be curious to find out more, and just generally spend some time with our great Store Experts. We're really looking forward to our customer's feedback!"
Visit Origin'40 at 288 Chiswick High Road , London, W4 1PA, Mon-Sat 10am – 7pm, Sunday 11am – 5pm
Advertisement
October 19, 2021