The safest social space in town - morning, noon and night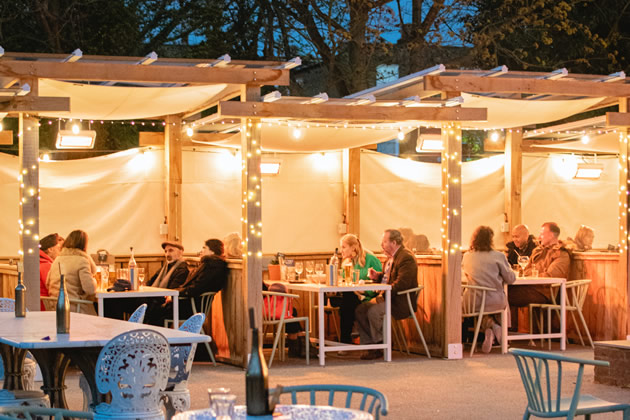 The Airedale Café & Bar based at The Hogarth Club in Chiswick is the safest social space in town - morning, noon and night. Discover their personal, heated dining pods, hidden in the leafy grounds of The Hogarth Club just moments away from Chiswick High Road.
You can now book your table online!
The Airedale café offers the perfect place for breakfast and lunches, brunch dates, Sunday roasts, happy hour catch ups (Fridays 6-7pm) and evening dinner! Evening pop-ups are currently available Tuesdays, Fridays and Saturdays from 5pm. Pods can also be booked for drink service only on non-food pop up days, including a wide range of wines, beers, cocktails soft drinks and more.
The Airedale is an independent café, bar and venue that was established at The Hogarth Club in 2017. Tucked away just off Chiswick's buzzing high road, The Airedale is open to members and non-members of The Hogarth for breakfast, lunch specials and evening food pop-ups! The Airedale has hosted fantastic member parties, live music nights, private events and celebrations big and small with competitive inclusive party packages. The Airedale prides itself on serving the very best in coffee, fresh food and quality wine, beer and spirits while also supporting small, local businesses.
In 2020, The Airedale rapidly adapted to the COVID-19 pandemic by promptly building their new outdoor 'pods'. These new outdoor pods allow tables of up to 6 to safely gather all year round. Social distancing guidelines are followed as each pod is separated by glass screens while also being covered, heated and beautifully lit.
ALL-DAY BREAKFAST AND LUNCH SPECIALS
Available 8:30-3:30
There is something for everyone on The Airedale Cafe menu. Head Chef Faizel Kimera creates daily lunch and salad specials, which go alongside the regular all-day breakfast menu and staple lunch favourites that make for the perfectly balanced menu. Pair this with their speciality Gentleman Baristas coffee or one of our freshly made smoothies for the perfect lunch!
VIEW THE CAFÉ MENU HERE: Café Menu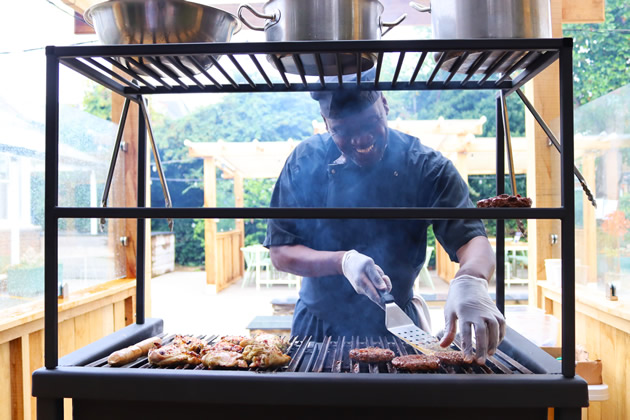 EVENING FOOD POP-UPS
The Airedale have invited some of London's best artisan chefs to provide their own expert "pop-ups". Regulars include Sourdough Pizza from BASE FACE on Tuesday evenings , BBQ with in-house chef Kenny Malcolm Friday evenings and Japanese from Silla and Dave from SUSHISTORE on Saturday evenings . Each pop-up serves food between 5-9pm but The Airedale is open for drinks until 10pm Monday to Saturday to ALL, as well as members of The Hogarth Club.
FIND OUT MORE INCLUDING THE MENUS HERE: www.thehogarth.co.uk/evening-food-pop-ups

BOOK YOUR POD OR OUTDOOR TABLE
Gather a group of up to 6 and get ready to discover one of Chiswick's safest and most comfortable social spaces.

SAFE SOCIAL SPACE
The Airedale Cafe & Bar creates a safe, social space you can relax in total confidence with by implementing the following measures:
New one way system throughout the Cafe and The Hogarth Club
Redesigned indoor bar furniture for social distancing
Outdoor heated and covered separated seating pods as well as outdoor tables
Card payments only
Drink and Breakfast menu orders can be made via the Dines App to speed up service - safely
Safety signage to remind diners about health & safety procedures
Mandatory PPE for all staff
Extra cleaning

OPENING HOURS
FOOD
Monday – Saturday 8:30am - 3:30pm
Sunday 8:30am – 5:00pm (Sunday Roast lunch menu from 12:00 until 5pm)
BAR
Monday – Saturday 8:00am - 10:00pm
Sunday 8:00am - 8:00pm
EVENING POP UPS
5:00pm – 9:00pm
Tuesday BASEFACE Pizza
Friday BBQ with Kenny
Saturday Japanese Food with SUSHISTORE
You can now book your outdoor pod in advance online at bookairedalepod or over the phone on 020 8995 4600.
Please be aware of The Airedale's adults only policy before you book:
ADULTS ONLY POLICY
The Airedale Café and Bar is an adults only venue and only allows 14+ years inside or outside the café, with the exception of Sundays 10am – 4pm.

Advertorial
April 27, 2021