Estate agent chain planning third branch in the area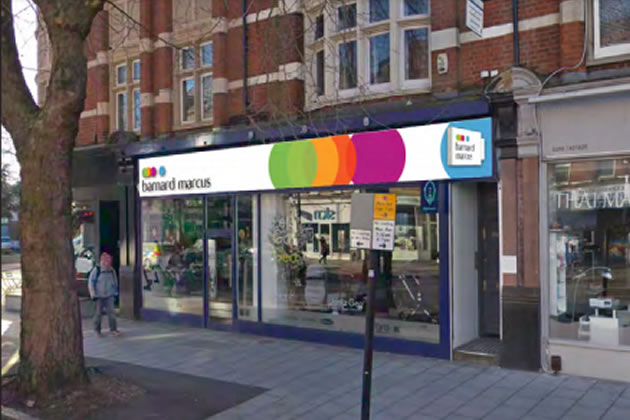 A visualisation of the new branch on Chiswick High Road
Barnard Marcus, the large estate agency chain, is planning to open a new branch in Chiswick.
The move has surprised other agents operating in the area who are unclear about what their competitor's strategy might be.
The national estate agency chain has submitted a planning application for changes to the site at 87-89 Chiswick High Road near the junction with Chiswick Lane that was formerly occupied by push chair retailer Peppermint.
This will be their third branch in W4 adding to another site on Chiswick High Road and one on Turnham Green Terrace.
It is not clear what their intentions are for the other branches and whether they intend to keep them open. We asked them for comment but they did not respond.
Christian Harper of Harper Finn said, 'How ridiculous…. It just shows you how much money corporate estate agents have to waste. Barnard Marcus already have two offices that have a small market share of potential business in Chiswick, yet they think the answer is to open yet another office rather than improve the old fashioned offices they already have. Maybe it's cheaper to open a new office to get some PR and advertising than it is to pay for bill board advertising by utilising all of the current CV19 relief on rates, rents and PAYE."
Mr Harper has operated in Chiswick for 14 years without a high street presence and says he hasn't come across a customer for years who walked up and down Chiswick High Road to register with estate agents. He believes that the changing structure of the market will force estate agents to close high street branches over the next five years which will 'encourage artisan businesses of real interest back to our streets'.
He adds, "When I was a child, Chiswick was a real destination for little shops. We had an amazing model shop, a model railway shop, four butchers, craft shops… the list was endless."
Andrew Nunn of Andrew Nunn Associates suggested that the move may represent a consolidation of their operations in Chiswick as the footfall and 'physical presence' of the two current premises are compromised now Turnham Green Terrace has 'effectively been closed' and the High Road branch is well hidden behind vegetation. He estimated combined rent alone must be comfortably £200,000pa and for that 'you would expect greater visibility and footfall ….oh and then there is the lack of turnover in the market'. However, when told of the location of the new branch he didn't think it was a suitable site for consolidation and speculated that it may be for new home sales.
Another local estate agent said when told about the plan, "In business school they teach about the Starbucks model of expansion in which an area is flooded with outlets in the hope of driving smaller competitors out of business. Starbucks themselves did try it here for a while but gave up because thankfully we are too attached to our independent businesses.
"Other estate agency groups are playing a similar game but more subtly, they operate in Chiswick under different brand names but are the same company.
"If they are opening a new office without closing one of the others Barnard Marcus look as though they plan to be the Starbucks of estate agency but, as we have seen, this strategy doesn't always work."
Christian Harper concludes, "Think again Barnard Marcus. If I were them I would close one of the two offices they currently have and then think outside the box to create one beautifully designed 'destination' that is future proof and interesting. Isn't it time that estate agents offices could be multi use… why couldn't all the agents operate in one huge sub-high street office. Surveyors, architects, builders, interior designers, mortgage companies, estate agents and even furniture businesses could all be on one site. Wouldn't that be more interesting and useful to the public than a generic corporate estate agent saturating Chiswick with yet another badly lit office with plasma screens and rows of cheap desks and nasty posters offering not much at all."
Barnard Marcus is part of Sequence (UK) Limited, a national network of estate agents, with over 320 offices around the country operating under 12 different brand names.
October 25, 2020