Local author publishes biography of the WW2 undercover agent and unsung war hero
A Chiswick writer has published the first-ever biography of Lt. Cdr Mike Cumberlege, a war hero who carried out many undercover operations before being executed in Sachsenhausen concentration camp in 1945.
Robin Knight's book, "The Extraordinary Life of Mike Cumberlege SOE " (Fonthill Media) recalls a man who was 'truly Elizabethan in character – a combination of gaiety and solidity and sensitiveness and poetry with daring and adventurousness – and great courage.'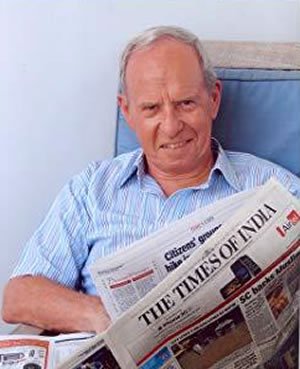 Robin Knight
Robin, a Chiswick resident since the 1970s, who has worked as a foreign correspondent, was inspired to write the biography while he was writing the centenary history of Pangbourne (Naval) College which Mike Cumberlege attended as a 14-year old boy, when he was intent on a naval career. According to school records, Mike had gone 'missing' and as Robin started to search for clues as to what happened, he uncovered a fascinating character with an extraordinary life.
Lieutenant Commander Claude Michael (Mike) Bulstrode Cumberlege DSO* RD (26 October 1905 – 1945) was highly resourceful and lived by his wits, skippering ocean-going yachts for wealthy Americans before the war. In 1936, he married Nancy and they had a son Marcus, a poet, who is now based in Bruges.
From 1940, Cumberlege served in undercover roles in the Royal Navy in Marseilles and Cape Verde and was on the staff of General de Gaulle in London. Posted to Egypt in 1941 in the SOE, he formed a para-naval force of fishing vessels, took part in fighting in Greece, attacked the Corinth Canal, escaped from Crete, was wounded and returned three times to Crete clandestinely.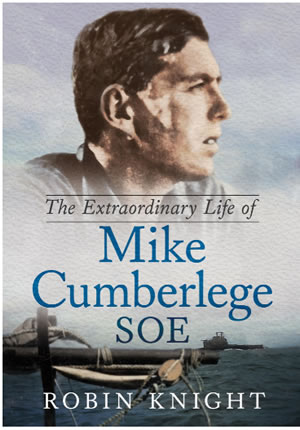 On a second operation to destroy the Corinth Canal in 1943, he was captured. Tortured in Mauthausen concentration camp, he was transferred to Sachsenhausen and spent twenty-one months in solitary confinement before being executed.
"I really felt that his story deserved to be told, and so I did some research and published a sort of pamphlet entitled, 'In Search of Mike Cumberlege'. That generated a great deal of interest. One 93-year old man wrote to me from New Hampshire and told me his father had owned one of the yachts Mike had sailed in before World War Two. He had a cache of letters which he insisted on giving me personally, sailing across the Atlantic on the Queen Mary in order to do so."
Another contact came from Ukraine, from a man who had information about Mike's time in Sachsenhausen from Ukrainian prisoners who were incarcerated at the same time. There were also letters between Mike and his wife Nancy, and the family had inherited these along with valuable photographs. Robin was also encouraged by the advice of bestselling author Ben McIntyre, whose latest book is about MI5 and the springing from Russia of KGB double agent Oleg Gordievsky. Ben told Robin that there was definitely a book in the story of Mike's life and he decided to proceed with it.
It took Robin about two years to compile the manuscript, mostly writing from his home in Chiswick. "I felt I was doing it in his memory, that his story deserved to be told."
Mike Cumberlege was also friendly with travel writer Patrick Leigh Fermor, and the two men had fought alongside each other in Crete after the German invasion. Twenty five years after Mike's death, Leigh Fermor was climbing in the Andes. He was invited to dinner in Lima by the British Ambassador, and by coincidence was seated next to Mike Cumberlege's sister- the two dinner guests were able to spend a happy evening swapping stories about Mike.
'The Extraordinary Life of Mike Cumberlege SOE' has been described as "a memorable and enduring story of resourcefulness and love in peace, daring and initiative in war, optimism and courage in death."
It contains unique insights into the pre-1940 world of top-end ocean sailing in the Atlantic, Mediterranean and Aegean as well as never-before published letters, images and original documents about SOE para-naval activities in the eastern Mediterranean during the Second World War. There are more than seventy previously unpublished photographs, many taken during the war by Mike, who was awarded a DSO & Bar, and a Greek Medal of Honour.
The book may be ordered for £17-50 pre-publication through Fonthill and is also available on Amazon.
December 4, 2018