Ma Ma Boutique Bakery is area's first totally gluten-free establishment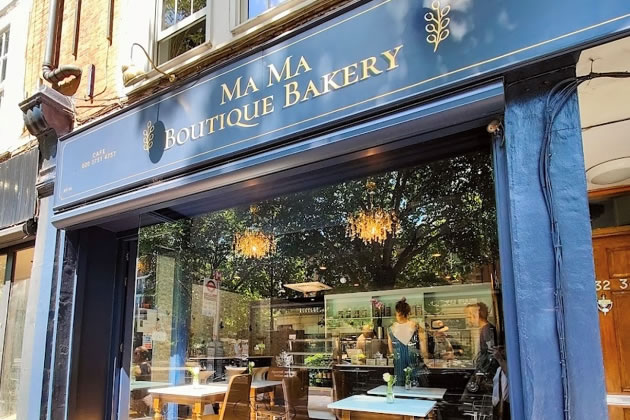 Ma Ma gluten-free bakery and cafe
Chiswick's first dedicated gluten-free bakery and cafe has arrived, with the opening of Ma Ma Boutique Bakery.
Coeliacs and those with gluten intolerance need no longer forego treats such as pastries, cheesecake and even a gluten-free sandwich for lunch on freshly-baked bread.
The selection changes on a daily basis, and offers such goodies as feta and spinach rolls, Polish-style vanilla cheesecake, cinnamon swirls, blueberry or raspberry sponge slice, and orange and almond cake.
Breads baked daily include sourdough, boules and poppyseed loafs. Sandwiches made from the breads are also available, as well as a full selection of hot and cold drinks.
While there are some cafes on the High Road which offer some gluten-free items, Ma Ma is dedicated solely to a gluten-free menu. Everything is made in the dedicated gluten-free kitchen at the rear of the premises and there is no cross-contamination with other flours.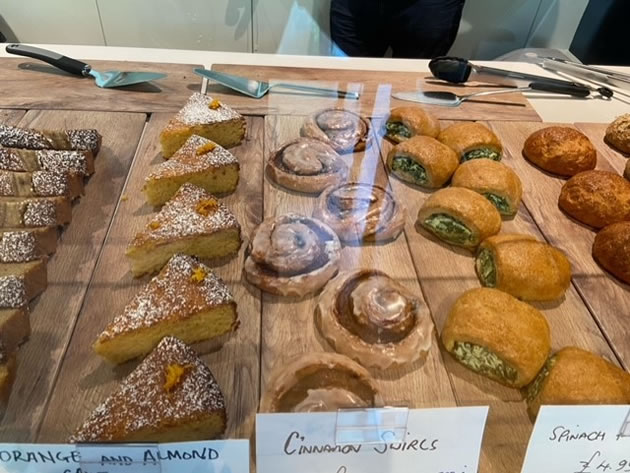 The couple behind Ma Ma are Nigel Ryan and his wife Marzena Lubaszka, a former chef.
Both of them had embarked on a gluten-free diet on medical advice, following illnesses some years ago.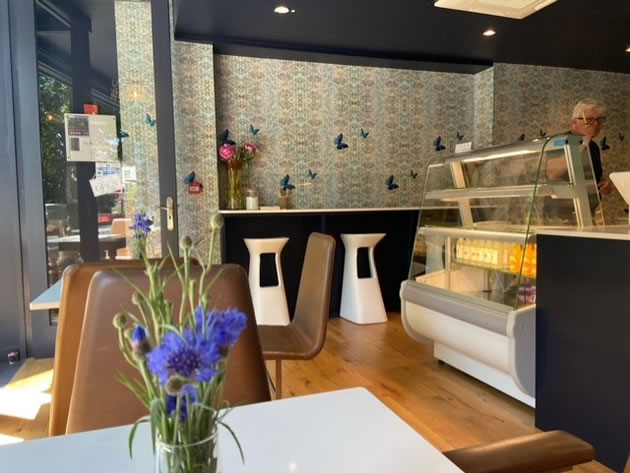 Marzena found herself baking gluten-free breads and cakes during the pandemic for friends and neighbours who were coeliac or gluten-intolerant.
The couple began to discuss the possibility of turning their passion into a business opportunity, and with Marzena's expertise as a former chef, coupled with Nigel's experience working in the world of finance, embarked on a search for a suitable premises.
Following a refurbishment, Ma Ma cafe opened some weeks ago, but had to close while they were dealing with a family bereavement.
They are now open from 9-6 Wednesdays to Saturdays and on Sundays from 9-4pm.
The cafe is closed Mondays and Tuesdays.
They plan to expand the menu in future, and to offer more veggie and vegan options and are also seeking to hire a baker.
At the moment Marzena is doing all the baking, which means a 4.30am start.
She uses her own blend of gluten-free flours and is constantly experimenting with new ideas.
"My love affair with bread began when my grandfather taught me how to bake the perfect loaf when I was a little girl. For me there is nothing better or more comforting than freshly-baked bread."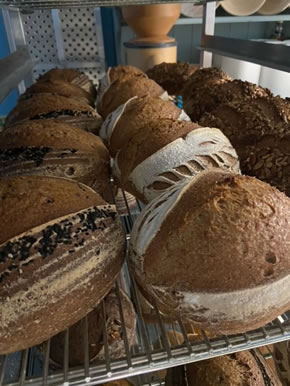 Gluten-free ingredients are more expensive than other flours but the couple say they have tried to keep the menu affordable.
A buttery breakfast loaf was priced at £4.95, a spinach and feta roll at £4.95, while slices of cake were priced just under £5.
The name Ma Ma Gluten-Free Boutique Bakery is an amalgam of the first two letters of Marzana's name and her late sister who passed away during the Covid pandemic. The two sisters shared a passion for baking.
"We have had lots of customers coming into the shop and saying that they hadn't known beforehand that it was gluten-free and they really enjoyed it. And of course there are many people who are coeliac or gluten intolerant who are delighted because they can be confident that we are totally gluten-free in the premises,", says Nigel.
All items have ingredients listed, as there are nuts and seeds used on the premises.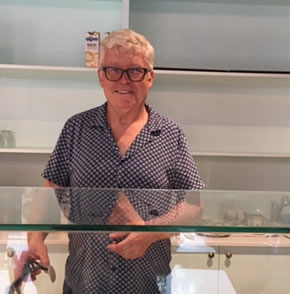 Nigel Ryan
Gluten is a protein which is found in wheat, oats, barley and rye, and must be totally excluded from the diet of people with coeliac disease.
Many people find a gluten-free diet helps with gastrointestinal issues but can tolerate small amounts of gluten, while others find avoiding wheat helps with digestive issues. Baking with gluten-free flour is a challenge because without the binding properties of the gluten, the mixture is more crumbly.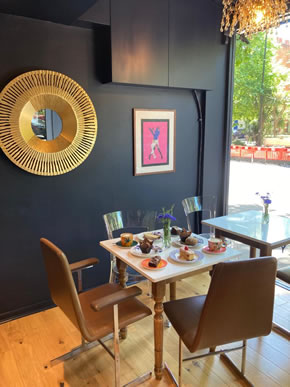 Cafe interior
"About 90 per cent of our ingredients are organic and we really want to provide a service for people who find it difficult to get good bread that is gluten free and healthy. We are really enjoying meeting new customers and being part of the community in Chiswick", says the couple.
Anne Flaherty
This page is sponsored by Rocks Lane who support community initiatives in Chiswick.


August 6, 2022