Maria and Luciano still serving customers after four decades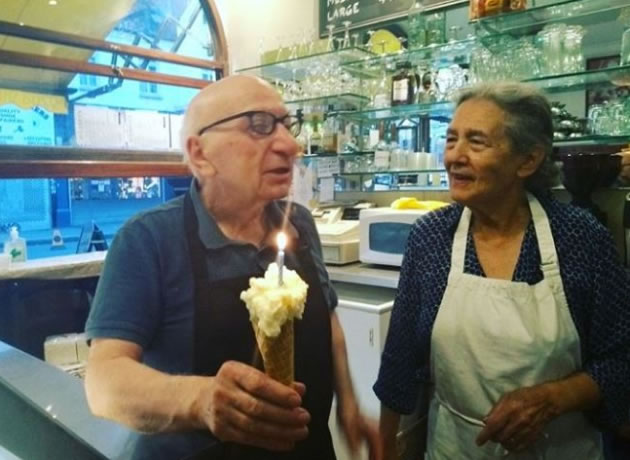 Luciano and Maria celebrate another landmark date
This Thursday (25 June) the 42nd anniversary of the opening of Foubert's was celebrated on Turnham Green Terrace.
As they are nearly every day, Maria and Luciano Lo Dico were on hand to mark the event, with appropriately enough, a candle in an ice cream.
The original Foubert's was in Foubert's Place in Soho, just off Carnaby Street but the couple decided to move west and opened a bar, hotel and café selling real Italian ice cream at 166-8 Chiswick High Road.
Luciano had trained at a hotel school in Taormina in Sicily completing his course in 1964. A chance conversation with an English couple on holiday persuaded him to come to England despite a shaky command of the language. At their suggestion he wrote to Charles Forte, owner of the Café Royal to ask for a job. His application was accepted but he faced a nine month wait for the paper work to be completed.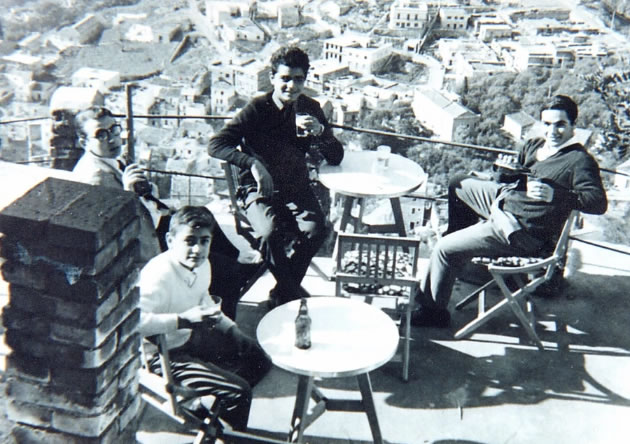 Luciano with his lifelong friend Angelo at Taormina in Sicily. Picture: Foubert's
Once established in London, he later went on to set up on his own with the ice cream parlour in Soho before the Chiswick move.
Through the eighties the Chiswick establishment thrived and expanded over four buildings. The Cellar Bar in particular was remember fondly by many Chiswick residents as being one of the few legitimate late night venues in Chiswick before the change in licensing laws.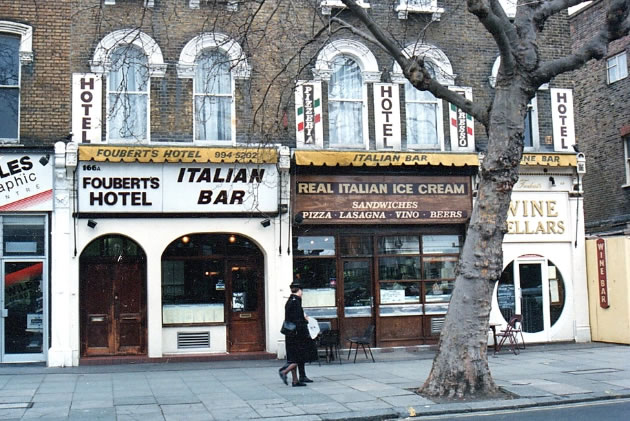 Foubert's in the eighties. Picture: Foubert's
In 2005, an offer Maria and Luciano couldn't refuse (for positive reasons) came from the Soho House group who wanted to establish the High Road House private members' club and restaurant there.
This resulted in another move to the current location at 2 Turnham Green Terrace where they offer twenty-four flavours of ice cream. They still make their ice-creams and sorbets on the premises in classic Italian drums.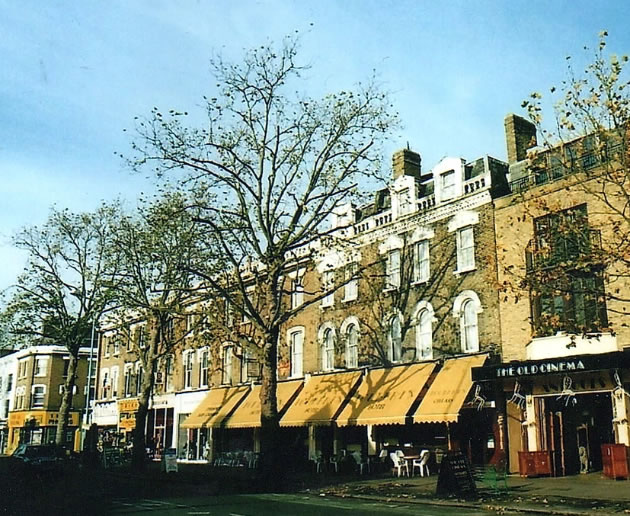 Foubert's in the nineties. Picture: Foubert's
As well as Fourbert's Kensington, they recently acquired a site in Vanston Place, Fulham on the corner of North End Road and Walham Grove. It has a fabulous roof terrace above the shop to relax and enjoy ice-cream and coffees, as well as seating inside.
They are accepting reservations a day in advance at Foubert's Fulham from 4 July. Tables are also available for walk-ins. The Fulham branch is currently open 11am - 7pm Tuesday to Sunday. From 4 July, they will be opening from 11am - 9pm and serving pizza, beer and prosecco.

June 28, 2020