W B Yeats tribute would be outside St. Michael and All Angels Church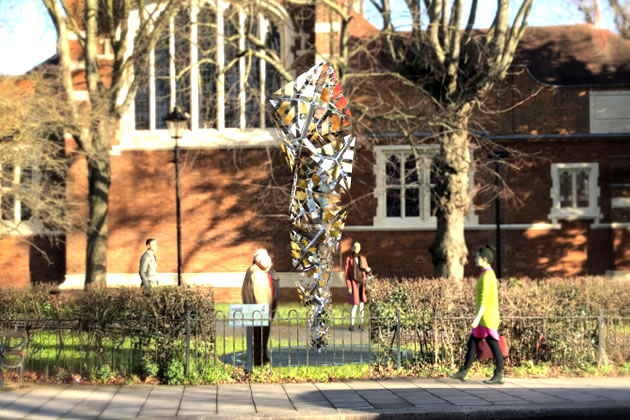 A visualisation of how the statue might look from the planning statement
An application to build a statue in Bedford Park marking the association of Irish poet W B Yeats with the area should be approved according to Hounslow Borough planning officers.
The campaign to have a statue erected has been running for over five years and it now looks set to achieve its aim with the structure taking its place on a site adjacent to St. Michael & All Angels Church.
There were 26 submissions in favour of the scheme with nine people objecting on the grounds that the statue was not in keeping with the area, would be prone to vandalism and no provision was made for maintenance.
It is understood that the report from the planning officers will go to a forthcoming borough planning committee. It is unusual for councillors on the committee to go against the recommendations of the officer. The permission would also include two informational plaques.
The statue would be a contemporary piece of artwork, called 'Enwrought Light' which has been designed by British artist Conrad Shawcross. The piece is inspired by Yeats's poem 'He Wishes for the Cloths of Heaven' and would comprise a vertical gold and silverfragmented structure designed to reflect light.
Yeats spent part of his teens and his twenties in Bedford Park, a vital period in his development as a poet and dramatist. He was inspired by the Arts and Craft ambience in the area. A symbolic rather than figurative work was chosen after consulting locally in attempt to show how he was inspired by Bedford Park's 'progressive spirit'.
Yeats spent many years of his early life living in the utopian Arts and Crafts community of Bedford Park. His family moved frequently between London, Dublin and Sligo, moving into Bedford Park's Woodstock Road in 1879 while 'Willie' attended Godolphin (then a boys' school) until age 16, then back to Dublin, returning to London when he was 20, and to 3 Blenheim Road in Bedford Park in 1888, where they remained until 1902. W B Yeats wrote one of his most famous poems, The Lake Isle of Innisfree, while living in Bedford Park.
The campaign for the statue was officially launched in 2015 at the Irish Embassy in London. It was spearheaded by local poet, musician, and BBC broadcaster Cahal Dallat. The project set up was enabled by financial support which came from almost entirely local sources.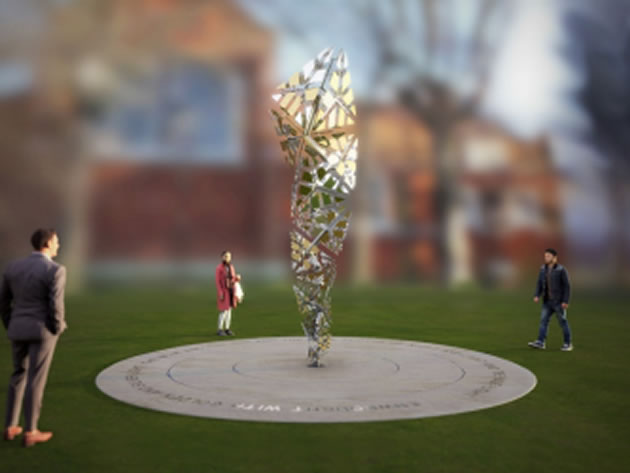 A visualisation of how the statue might look from the planning statement
You can read more about the Yeats link with Chiswick in this article by Cahal Dallat written for Chiswickw4.com
The reference for the planning application is P/2021/0577.
This page is sponsored by Express Property Services who support community initiatives in Chiswick

April 16, 2021