Nominated by residents as part of the borough's Pothole Pledge scheme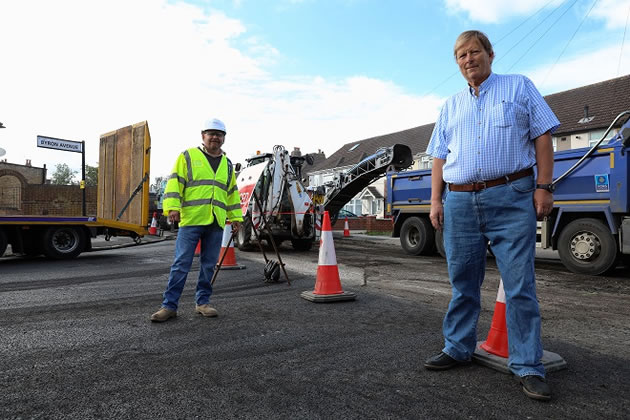 Guy Lambert (right) oversees resurfacing work.
Three roads in the Chiswick area are to be resurfaced after being identified by local residents as having a significant issue with potholes.
Grove Park Gardens, Grove Park Terrace and Silver Crescent are to benefit from the latest phase of Hounslow Council's Pothole Pledge programme.
This was launched in 2018 as an opportunity for residents to nominate roads they consider require attention; Hounslow Council committed £2million to fix the roads deemed most in need of repair.
As with any road maintenance programme, not all repairs are equal, and criteria apply as to when a 'pothole' best requires a repair. As part of the inspection process many of the locations nominated are fixed as a matter of course, but less severe examples are considered as part of the Pothole Pledge schedule.
Road surface issues, including potholes can be reported via the FixMyStreet app, or alternatively by visiting this page on the Hounslow Highways site.
Councillor Guy Lambert, Cabinet Member for Highways, Recycling and Trading Companies said, "It's really positive that the Pothole Pledge 2020 has commenced and demonstrates our commitment to getting on the road to recovery with these planned works.
"Hounslow's roads are already considered among the best in London, but with the Pothole Pledge – we are showing we have the ambition to go even further.
"Thank you to the residents who are supporting crews at locations by ensuring their streets are clear for works to get underway."

July 7, 2020