However no prospect of this happening on Piccadilly line in near future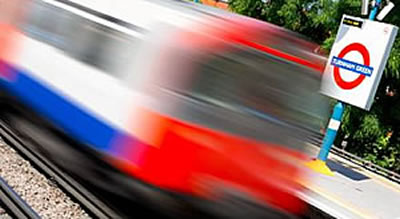 Piccadilly line train speeds through Turnham Green
New signalling on the Piccadilly line is the "number one priority" for Transport for London (TfL), according to the network's boss.
London Transport Commissioner Mike Brown said the increase to capacity would be "like an entirely new service in London" but a stop at Turnham Green remains a distant prospect.
Modern signalling allows more trains and a more reliable service on Underground lines – meaning the Piccadilly line could run every 90 seconds.
TfL has already commissioned 94 new trains to replace the 50-year-old rolling stock on the line, with the first expected in 2023.
Their design will allow 12 per cent more passengers to board – but it could be boosted by 60 per cent with a more regular service. That would allow 21,000 more passengers to use the line every hour.
The £2.45 billion signalling upgrade was shelved in 2018 as TfL tightened the purse strings in an effort to cut its deficit.
The Piccadilly line carries more people to Heathrow than any other train to any other airport anywhere in the world and Mr Brown said this transport link meant improving the line was a "slam dunk".
But Conservative assembly member Tony Arbour – who represents Hounslow, Kingston and Richmond – said changes to the Piccadilly line were "the most extraordinary dream" for commuters at Turnham Green station in Chiswick.
Mr Arbour said facts about Heathrow might be "good patter" but will not "please the residents of Chiswick".
Piccadilly line trains only stop at the station during the early morning and late evening on week days, but not at peak hours or weekends.
A more regular service would require modern signalling, but other work at the station would also be required.
Mr Brown said there was "nothing I want more" than for Piccadilly line trains to stop at Turnham Green.
But the transport boss said there was "no prospect" of that happening in the near future.
He said, "What we do need now is to ensure that we don't have years and years of delivery of the Piccadilly line new train and not the signalling to enhance the service going forward."
Labour assembly member Joanne McCartney – who represents Enfield and Haringey – said the difference between the Piccadilly and Victoria lines was now "very stark".
She said it would be "completely bonkers" if new trains ran on the line for years without a signalling upgrade.
Ms McCartney said: "For my part of north London this is our main route into Heathrow, the UK's biggest airport – and it's also the most affordable route."
He said, "Even when we get the Elizabeth line serving Heathrow directly from the City, the West End and Canary Wharf, there will be an absolute imperative to ensure the Piccadilly line is fit for purpose."
He added, "We really have to remind people the Tube upgrade isn't complete."
The continued delay to the signalling looks set to push the Turnham Green stop introduction towards the end of this decade.
Written with contributions from Jessie Matthewson - Local Democracy Reporter

February 8, 2020