From Austen to Auschwitz, the Beatles to Brexit and much more
There's a feast of fact and fiction for book-lovers as the Chiswick Book Festival returns for the ninth year. Theres plenty still available to see this weekend, from fiction, to events for lovers of history, politics, memoirs and other factual genres, including music, poetry, food and wine.
You can also keep up to date with events as they unfold on Twitter.
The opening event, An Evening with Jane Austen, was held at Chiswick House on Thursday September 14 - the day the author graced the £10 note for the first time, celebrating 200 years of her life and work.
Imogen Stubbs, (pictured on right), who played Lucy Steele in the award-winning film Sense & Sensibility, read extracts from Austen chosen by the event's other speakers, Paula Byrne (The Genius of Jane Austen), Helena Kelly (Jane Austen: The Secret Radical) and Dr Esme Whittaker, the curator of Chiswick House. And there's a Folio Society boxed set of Jane Austen's books to be won in the Festival quiz, kindly donated by Foster Books.
The Chiswick Book Festival is based at St Michael & All Angels Church, Bedford Park, which organizes the Festival in aid of three reading charities – RNIB Talking Books, InterAct Stroke Support and Doorstep Library. Other events are held nearby at the Tabard Theatre and Arts Educational Schools (close to Turnham Green tube station) and at Chiswick Library. The full programme is on the Festival's website, where tickets are on sale: www.chiswickbookfestival.net. where you can also see any changes or amendments to the programme.
- As the film Victoria & Abdul opens, starring Dame Judi Dench, the author of the book that inspired it, Shrabani Basu, will speak with Deborah Cadbury, whose new book Queen Victoria's Matchmaking tells how seven of the Victoria's grandchildren came to occupy the thrones of Europe.
- World War II and Auschwitz will be discussed by the distinguished historian and BBC film-maker Laurence Rees whose latest book, The Holocaust - A New History, has been acclaimed by reviewers. Former Reuters foreign correspondent Anne Sebba (Les Parisiennes) will discuss the role of women in wartime with best-selling author Elizabeth Buchan, whose latest novel The New Mrs Clifton focuses on a great taboo, a German bride in post-war Britain.
- The Swinging Sixties will be remembered by the veteran author hyand journalist Hunter Davies (A Life In The Day) - biographer of the Beatles and launch editor of the Sunday Times Magazine – with his friend and fellow-Cumbrian Roger Bolton, the presenter of Radio 4's Feedback.
- From the 1970s, the Jeremy Thorpe Affair will be discussed by John Preston, author of A Very English Scandal, with Robin Lustig (Is Anything Happening?), former presenter of Radio 4's The World Tonight, who covered Thorpe's trial for conspiracy to murder. Lustig, who has interviewed world leaders such as Nelson Mandela, will also discuss events of the 1970s and 1980s in The Art of the Political Interview with the historian and peer Peter Hennessy (Reflections), whose Radio 4 interviewees have included John Major, Neil Kinnock, Norman Tebbit and Shirley Williams.
- More recent political events will be covered by Jeremy Vine (What I Learnt), whose daily news show on BBC Radio 2 has over 7m listeners. And Craig Oliver, former editor of the BBC's News at Ten, later David Cameron's director of communications, will speak on a Brexit panel with Harry Mount, editor of The Oldie, and author and journalist John O'Farrell, chaired by Stefanie Bolzen, UK correspondent of Germany's Die Welt.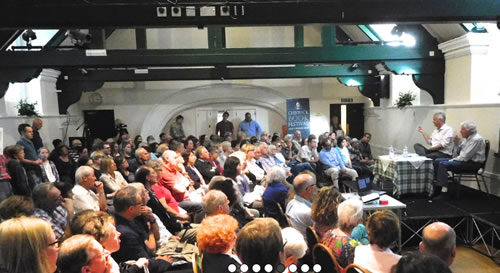 A scene from last year's festival
- The politics of the environment will be discussed by lawyer James Thornton, founding CEO of ClientEarth (named by the New Statesman as one of the ten people who could change the world), and Martin Goodman, professor of Creative Writing at the University of Hull, chaired by Jo Coburn, who co-presents BBC Two's Daily Politics show.
- The environment will also feature in a talk on The Making of the British Landscape by Nicholas Crane, who presents Coast and Great British Journeys on BBC TV. And Chiswick will have its own Kew Gardens session. Top gardeners and gardening writers Katherine Price, Tony Hall and Kew's Director of Horticulture, Richard Barley, will talk about the largest and most diverse botanical collection in the world, chaired by garden writer and presenter Gay Search.
- Music and politics, from Glastonbury to the Arab Spring, will be discussed by Dave Randall (Sound System: The Political Power of Music) with the former Huffington Post entertainment editor Caroline Frost (Blue: All Rise: Our Story). For another take on music, The Ukulele Orchestra of Great Britain's Will Grove-Whyte (Learn to Play the Ukulele) will host a jam session like nothing you've ever heard. And there will be poetry from Reverend Canon Mark Oakley (Chancellor of St Paul's Cathedral) who will read from his new book of poems, A Splash of Words.
- Inspiring personal stories will be told by fragrance entrepreneur Jo Malone (My Story), athlete and adventurer Sarah Outen (Dare to Do) and Martine Wright (Unbroken), who became a Paralympian after being injured in the 7/7 London bombings. Award-winning novelist Maggie O'Farrell will talk about her new memoir, I Am, I Am, I Am, which describes the near-death experiences that have punctuated her life
- Grief and how to cope with it will be discussed by Cathy Rentzenbrink (A Manual for Heartache) and Julia Samuel (Grief Works). And the lighter side of coping will be the subject of The Not-So Perfect Parents' Evening, with the Scummy Mummies, Ellie Gibson and Helen Thorn, and Matt Coyne (Dummy, The Comedy & Chaos of Real-Life Parenting).
- Wine writer and presenter Oz Clarke will talk about his new book Oz Clarke's World of Wine with food writer and presenter Jo Pratt, whose new book is The Flexible Vegetarian. And in one of several Festival preview events, Lucy Cufflin of Ginger Whisk Cooking School will give a cookery demonstration, followed by a light supper.
- There is also a full children's programme. Clare Balding (The Racehorse That Disappeared) is speaking in St Michael & All Angels Church at 5pm on Friday September 15th (£4) and David Baddiel (The Parent Agency and Birthday Boy) is at 11.15am on Saturday September 16th (£4). There are also free events in the Marquee outside the church: on Saturday, the Young People's Poetry Awards, the Giraffe and Frog Activity Party and Invincible Voices Storytime; and on Sunday The Really Big Pants Theatre Company, Inspire Little Minds Storytime and The BuiIding Boy Activity Fun.
- The Chiswick Book Festival will run from September 14 to 18 2017 (plus some preview events) at various venues in Chiswick, in aid of reading charities. Admission is by Saturday and Sunday Day-Passes £15, or Weekend Pass £25. A few events have separate charges. See website for full details and booking.

September 16, 2017