Community activism praised as it gets Green Flag for high standards
Dukes Meadows in Chiswick has been rated as one of the best in the country, according to Keep Britain Tidy.
A total of ten parks across the borough have been given awards for Love Parks Week. Turnham Green in Chiswick retains its title along with eight others in the borough.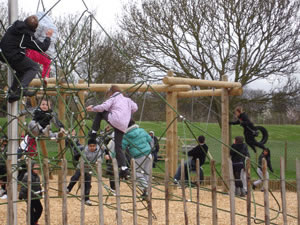 This year Inwood Park, Hounslow, and Dukes Meadows, Chiswick, are the new parks to join eight current holders of the prestigious Green Flag status.
The national award, handed out by environmental charity Keep Britain Tidy, recognises and rewards the best parks and green spaces across the country. A Green Flag flying overhead is a sign to visitors that the space boasts the highest possible standards, is beautifully maintained and has excellent facilities.
Dukes Meadow was seen as an example of community activism in the management of parks and open spaces. The Dukes Meadows Trust has been active on the site for a number of years and has led on the regeneration of the park - raising more than £1 million to create two high quality play areas, one of which they manage themselves.
The site hosts a popular water play area, a farmer's market and art studios.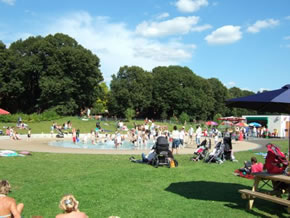 Carillion manage the parks on behalf of the council, and maintain many of the facilities provided, including the play areas, sports facilities, trees, grass and flower beds.
Kathleen Healy, MBE, from the Dukes Meadow Trust, said: "Everyone who has been involved is delighted. The trust has raised over £1 million to create new play areas, plant orchards, meadows and hedgerows and transform the park from a semi derelict, no-go area go to a thriving and popular park. It is great to have this achievement recognised with a Green Flag.
"The social enterprises the trust established now generate over £70,000 a year and we are using this to maintain the improvements made and provide free family events such as the Birds of Prey display last Sunday. We welcome volunteers and people can find out how to get involved through our website."

Cllr Sachin Gupta, cabinet member for leisure and public health at the council, said:

"Green Flags are the gold standard, so to win another two shows that our efforts to improve local parks are really making a difference.

"There has been a lot of work to bring these parks up to this level, not only from our grounds staff, but also the many volunteers and friends groups who volunteer their time to improve the sites for everyone's enjoyment.

The existing Green Flag parks are:

• Beaversfield Park
• Bedfont Lakes Country Park
• Boston Manor Park
• Crane Park
• Feltham Park
• Hanworth Park
• St John's Gardens
• Turnham Green


July 31, 2014