Turnham Green ward councillor Cllr Ranjit Gill reports back on his week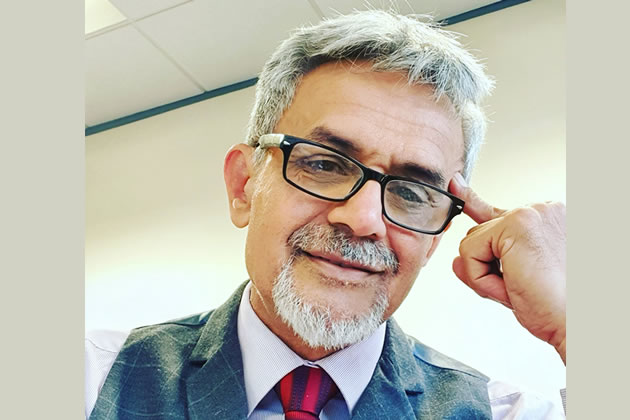 Turnham Green councillor Ranjit Gill
Autumn has arrived and it doesn't seem that long ago since my previous blog when we were still having great sunny days. I concentrated on what is still the most talked about topic not just in Turnham Green ward but across Chiswick – the road and parking changes. Firstly, thank you to everyone for your kind messages for that blog which highlighted the issues we are still facing. My fellow councillors and I find our inboxes full of emails relating to this subject and the outrage it has caused among Chiswick residents is exceptional. There are always two sides to every issue but the vitriol that has poured in relating to these transport schemes is unprecedented.
When is an LTN not an LTN?
Low Traffic Neighbourhood schemes (LTNs) are attracting loud, noisy opposition throughout London including in nearby Ealing. They have split communities around London. Many loathe them and others love them. The scheme in Grove Park, the South Chiswick Liveable Neighbourhood scheme, is an LTN. Here, despite massive local opposition as evidenced by a residents' petition. Hounslow council staged a dawn raid, with a police escort, to do exactly what local residents did not want: installed a barrier blocking the route along Staveley Road. Chiswick Riverside ward councillor Gabriella Giles went – as always on her bicycle – to check it out and found it didn't even meet its aim: to allow cyclists through. The gap wasn't wide enough – it is meant to be 1.5m wide at either side of the barricade. She reported it to the council's transport team, of course. And reminded me that the same had happened at Harvard Hill, as she outlined in her blog in August.
The scheme in the heart of Chiswick is not an LTN. It is several unconnected road closures with, as has been seen, no coherence or understanding of how Chiswick works. Cyclists aren't cycling along the closed roads in any greater numbers than before and there is so much less footfall that the pavements are largely empty making the hideous barricades, installed ostensibly to make space for social distancing, wholly unnecessary. Our shops are really struggling, on and around all the closed roads: Devonshire Road, Fishers Lane and Turnham Green Terrace. My fellow Turnham Green ward councillor Joanna Biddolph has asked Cllr Hanif Khan and transport officer Mark Frost for an online meeting with traders. No reply yet.
Residents, retailers, people who come here to work and the nine Hounslow Chiswick councillors were not consulted, but a former resident and current Hounslow councillor had his say. We continue to push for consultation including, most recently, this Tuesday when Cllr Joanna Biddolph asked Hounslow's leader Steve Curran to, "Do the decent thing. Admit your group has made a mistake, remove these temporary schemes, hold a proper unbiased independently-run and independently-evaluated consultation to draw up suggestions, then consult on those suggestions". The reply? "Thank you for your email I note your comments and concerns."
Cash cow Chiswick
Turnham Green Terrace has become a cash cow for the council as this week's revelation, triggered by a question asked by Chiswick Homefields ward councillor John Todd, about the value of the PCNs issued so far: 4,000 by the end of September which, if all are paid speedily at £65, totals over £250,000 (if paid late at £130 the total is well over £500,000).
Terrible signage
The signage is not up to scratch though the council continues to insist it is compliant. Anyone driving along Chiswick High Road from Hammersmith to Turnham Green Terrace is not required to concentrate on driving but instead to look hard for signs on the left, where they will not be looking given they are turning right, to tell them that they can't turn right.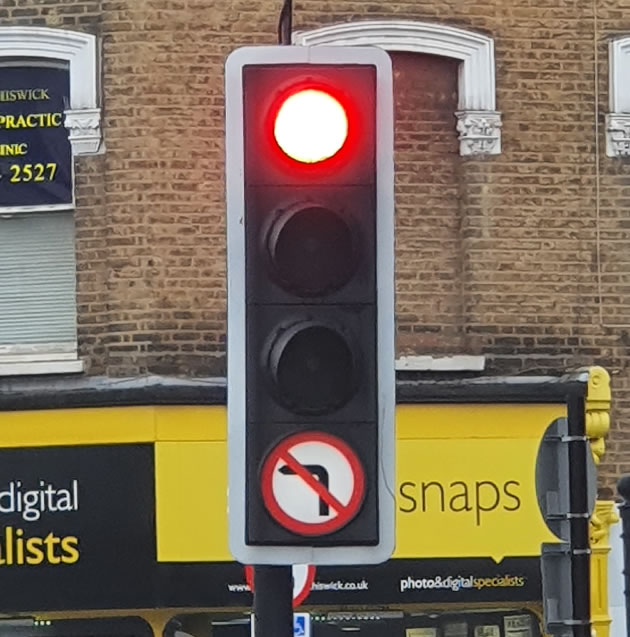 Worse, when they reach the junction both arrows on the traffic lights indicate they cannot turn left onto Devonshire Road. It's a confusing muddle. But compliant.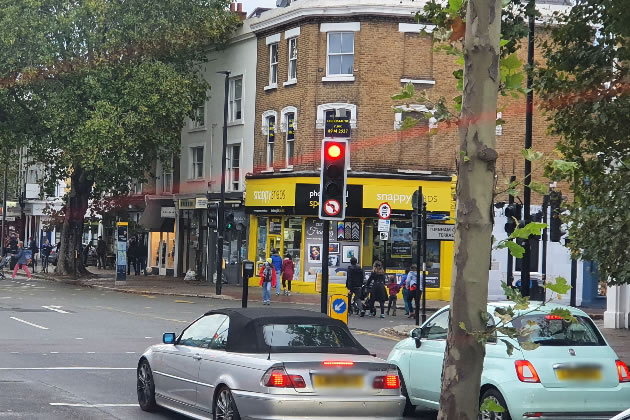 You wait at the traffic lights on the arrow pointing to turn right, waiting for a gap in the traffic to turn right. You set off and, hey presto, you get a glimpse of the sign saying access only and suddenly want slam on the brakes. But wait, it's too late because if you were to slam on the brakes you would be hit by traffic coming from the west so you drive on.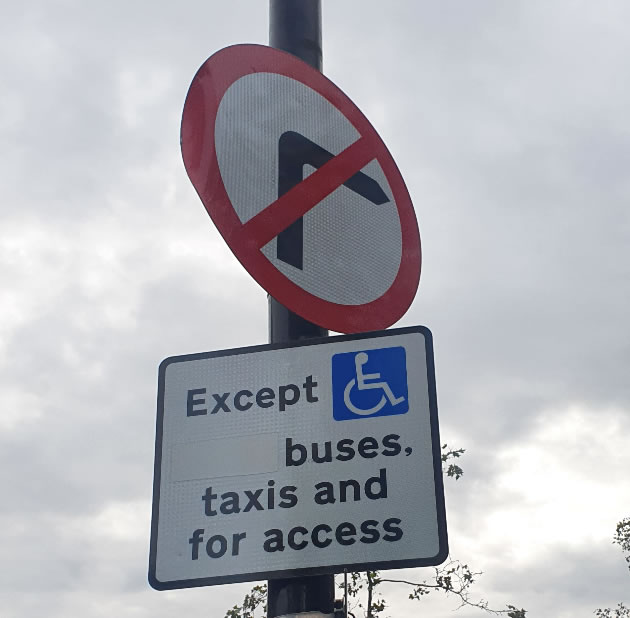 Bang, you've earned yourself a PCN, not the £200 as you would passing 'GO' on the Monopoly board. Thank you, Hounslow council, which just got richer by £65 or £130 if you don't pay immediately. Not bad by anyone's standards. A great revenue generating excise.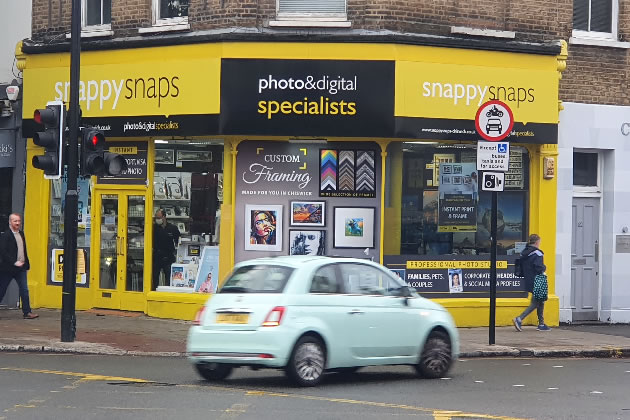 I stood on the corner last Sunday on my way back from having afternoon tea with Cllr John Todd and his wife and noticed not a single car waiting to turn right on the arrow painted on the road to Turnham Green Terrace changed direction. If the driver had seen the sign the driver would have headed straight on. One would have thought by now, with just short of £100,000 already in its bank account, the council could have erected better signage. But no, it hasn't. We have reported this, and all inadequate signage associated with these schemes, several times to the council. No changes have been made, though Hounslow council has passed on to Ealing council our complaint about the signage at the top of Fishers Lane – it faces north when traffic can only approach the junction from the east or west. It's an exercise in how to get it wrong, not how to get it right. Perhaps as with signs in Hounslow's Chiswick, it's compliant.
Nor is there a sign that you can't turn right on to Duke Road from Chiswick High Road. I guess just blocking half the entrance explains it. No doubt soon more cameras will appear to generate more income. Yes, more revenue for the council to make for the loss revenue from loss of parking spaces in Chiswick.
What about the traffic build-ups on other roads? The scheme was designed to reduce pollution, but all it does is move it to another part of our neighbourhood – Acton Lane and South Parade in Ealing's Southfield ward; Bath Road in Hounslow's Chiswick Homefields ward; and Stamford Brook Road and Goldhawk Road in Hammersmith's Hammersmith Broadway ward. It's called shifting responsibility. And compliant?
These LTN's are being challenged by residents and we will soon find out the outcome when judgement is passed. The leader of Ealing council is facing another vote of no confidence soon. Ealing did not consult with the ambulance service. One wonders if Hounslow council consulted with all three services. Cllr Joanna Biddolph has raised this question, and we are awaiting a response.
A question for the administration
Isn't it time to meet residents who pay council tax and businesses who pay rates, and who keep the council running, or do you just ignore them? At least Wandsworth Council is listening to its residents and has removed its LTNs. There are also concerns there about the effects of Cycle Superhighway 7 which includes moving bus stops, installing segregated cycle lanes, banning turns at several junctions and removing parking.
Covid-19
The rate of infection is rising again. I have not been able to visit my partner Peter for four weeks now as the staff seem to test positive regularly. I had bad news mid-morning on Wednesday. I saw a call coming in on my mobile from the care home and my heart sank. It's unusual for them to call me; it's almost always the other way around. They said Peter had tested positive. They had just received the results - but the test had been done on Friday, five days before. As I write this he is stable, has no fever or cough, and is his usual cheerful self. Some consolation. From March to late July, I looked after him 24/7 at home where he was safe and free of Coronavirus. I am hugely disturbed by this difference – and, of course, other residents are affected too. The carers need to take more care in their environment.
Yet I find when I go to the supermarket or the petrol station the number of people in these places who are not wearing a mask is alarming. I ask myself what is it that they don't understand or are they like President Trump? The October Chiswick Flower Market was cancelled as the organisers were concerned about the new guidance and I was happy not to be a marshal again as it would have been difficult controlling the crowd. Hopefully November might prove to be better and the flower market will be back and another roaring success.
PLEASE, PLEASE, for your own care and for the care of others, please kindly wear a mask, observe the rule of six and social distancing guidelines, sanitise your hands while shopping, and wash your hands when you get home. I do hope we can find a vaccine soon to bring this pandemic to a halt. We don't need another LOCKDOWN!
Cllr Ranjit Gill
Turnham Green ward
07976 702956
VIRTUAL DATES FOR YOUR VIRTUAL DIARY
Most council meetings have been cancelled. A few are taking place virtually and residents can attend online. Joining instructions will be on the council website, in the agenda reports pack for each committee, here.
15th October 6.00 pm Overview and Scrutiny Committee
19th October 3.00 pm Licensing Panel
20th October 6.00 pm Cabinet
3rd November 3.00pm Licensing Panel
5th November 5.00pm Planning Committee
10th November 7.30pm Borough Council
17th November 3.00pm Licensing Panel
17th November 7.00pm Chiswick Area Forum (new date)
CONTACT YOUR LOCAL COUNCILLORS
Surgeries have not yet been reinstated. When they resume you will be able to meet a councillor in Chiswick library every Saturday from 9.30am to 10.30am and on the first Saturday of every month at the Gunnersbury Triangle Club from 10.00am to 11.00am. You can, of course, still contact your local councillors by email or phone; see their contact details below:
Chiswick Homefields ward
Cllr Patrick Barr
patrick.barr@hounslow.gov.uk
07976 703263
Cllr Gerald McGregor
gerald.mcgregor@hounslow.gov.uk
07866 784821
Cllr John Todd
john.todd@hounslow.gov.uk
07866 784651
Chiswick Riverside ward
Cllr Michael Denniss
michael.denniss@hounslow.gov.uk
07976 703274
Cllr Gabriella Giles
gabriella.giles@hounslow.gov.uk
07966 270823
Cllr Sam Hearn
sam.hearn@hounslow.gov.uk
07833 376222
Turnham Green ward
Cllr Joanna Biddolph
joanna.biddolph@hounslow.gov.uk
07976 703446
Cllr Ranjit Gill
ranjit.gill@hounslow.gov.uk
07976 702956
Cllr Ron Mushiso
ron.mushiso@hounslow.gov.uk
07976 702887
October 10, 2020