Local councillor says they have shown little regard for public safety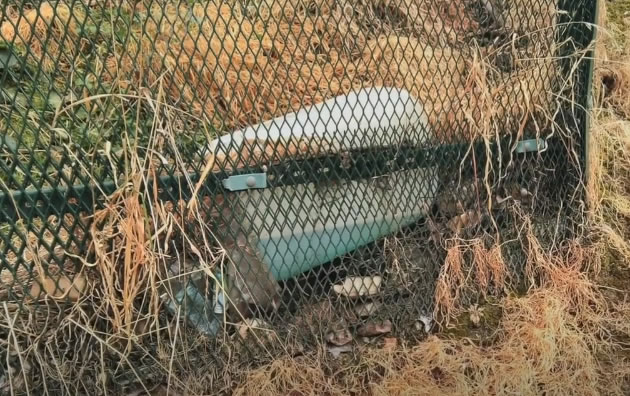 Chemical container by underground line in Chiswick. Picture: YouTube
A local councillor has blasted Transport for London (TfL) after he was shown a video of discarded toxic chemicals in Chiswick.
The film, taken by a resident of Hardwicke Road, shows a number of containers containing hazardous liquids left abandoned on a stretch of the underground line between Chiswick Park and Turnham Green tube stations.
The label of one chemical appears to show it to be ethylene glycol which several people die each year from ingesting. It has a sweet taste which means it poses a particular risk to children and animals.
On the film it is claimed that TfL were contacted over a year ago and asked to remove the vats but no action was taken. They initially said that the containers were the responsibility of a contractor and they were sure that there were no harmful chemicals on the site even though one of the containers is clearly marked as such.
Councillor Andrew Steed , the councillor for Southfield ward said he was grateful to the resident for posting the video and added, "I understand that the chemicals are used to control excess vegetation, but it is apparent that not all the hazardous chemicals used are then cleared from the site. Liberal Democrats are very worried that plastic containers, both full and empty, are left to pollute the area. Transport for London need to act quickly to remove these dangerous chemicals left in accessible places. It would appear that TFL have such little regard for the environment."
"I urgently have made contact with Caroline Pidgeon, Liberal Democrat London Assembly Member, who is Deputy Chair of the Transport Committee, to question TFL about their management of the their contractors, the chemicals that are used in maintenance of the underground and their environmental policy."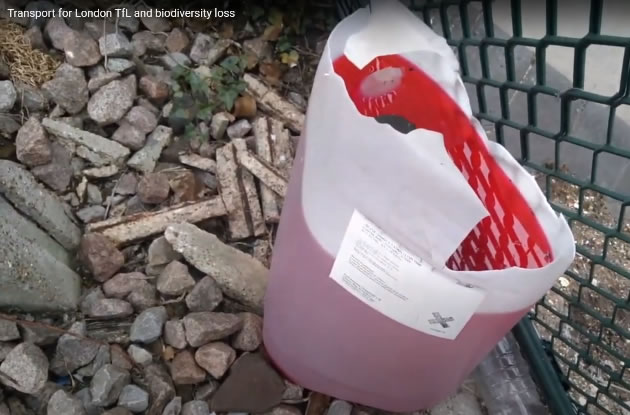 One of the containers filled with a red liquid and marked 'harmful'. Picture: YouTube
A TfL spokesperson said: "We strive to be a good neighbour to all those who live close to the Underground network and only apply herbicide to vegetation where there is no alternative to doing so. It has been used at this location to ensure the retaining wall is kept clear, allowing critical checks on the railway to be carried out safely. We acknowledge, however, that this site has not been maintained to the standard we expect and have removed the discarded containers. We have also reminded our staff of the need to adhere to our strict procedures for storing materials correctly and to keep the site clear of litter and debris. We will be closely monitoring the situation going forward."


July 4, 2020