Long-awaited route change will benefit workers
The long-awaited extension of the 27 bus route to Chiswick Business Park started on Saturday (Nov 10) and will make travelling to work easier for the 6,500 employees of the Park.
The bus route extension was initially expected to take place in October 2010.
A sum of £537,000 will be paid to London Buses over the next three years to seed the service improvement which requires an additional bus added to the London United fleet. The money is paid by the Hounslow Council through section 106 funds (developer contributions) from Chiswick Business Park.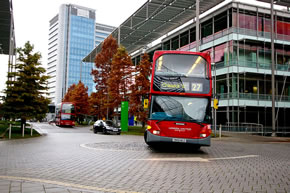 One of the first buses on the extended route into Chiswick business Park
Photo: Ian Wylie
However, it is not yet known whether the extension will ease congestion at the Gunnersbury Tube station where local residents groups have made repeated calls for an upgrade of facilities.
The 27 bus route which currently runs from Chalk Farm in Camden through High Street Kensington and Hammersmith, to Chiswick Post Office will now extend westwards along Chiswick High Road and into the Park's main entrance opposite Gunnersbury tube station before terminating near the Piccadilly and District line bridge.
Chiswick Park has provided a purpose-built bus terminus with driver amenities and facilities for buses to turn around and await their next scheduled departure.
Route 27 is a 24 hour bus service. Buses run every 5 to 8 minutes during the daytimes, Monday to Sunday and every 10 to 12 minutes in the evenings. Overnight, the frequency drops to two buses per hour.
Subject to consultation in Ealing and Acton, another route will be extended to the Park in 2013 from Ealing via Bollo Lane, also funded from the Park's section 106 contributions.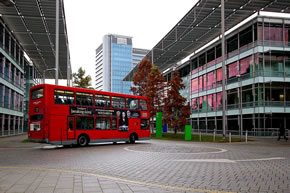 Photo- Ian Wylie
Kay Chaston, Chief Executive, Chiswick Park, said: "Chiswick Park has grown substantially and location and good transport links have played a big part in this. We welcome this additional bus route which gives greater access to the Park for our growing guest community and to welcome our increasing numbers of visitors."
Cllr Colin Ellar, Deputy Leader and Cabinet Member for Environment, London Borough of Hounslow, said: "We are delighted to be able to help deliver this improved access to Chiswick Business Park, with more and more people able to take advantage of bus services for their daily commute.
"Supporting this route extension will also help to reduce congestion; it is the final element in our Turnham Green traffic and transport scheme and is already make roads less congested around Turnham Green, which is good news for local residents."
Workers and visitors to the Park will also benefit from a new direct link to Kensington High Street, with the extended route 27 complementing existing routes 267, 391 and H91 to Chiswick town centre and Hammersmith, alongside route 237 which also runs through Chiswick town centre.
New, low-emission hybrid buses will operate this route from early 2013, as part of London Buses' scheduled fleet replacement programme. Over 300 hybrids are already in service throughout London, with many more on order.
Its understood that Hounslow Council have also prevailed upon the bus company to make sure that the driver changeover, which takes place at Stamford Brook, is made efficiently and speedily. This has been a point of congestion in the past.


November 9, 2012